You may be planning to host a women's night or even an event dedicated to women.
Either way, you've asked yourself what the best beer for ladies could be. 
The short answer is that women like different kinds of beer than men.
That being said, there are still beer recommendations for women if you do not know their preferences. 
Keep reading while we go through these recommendations and why they could work.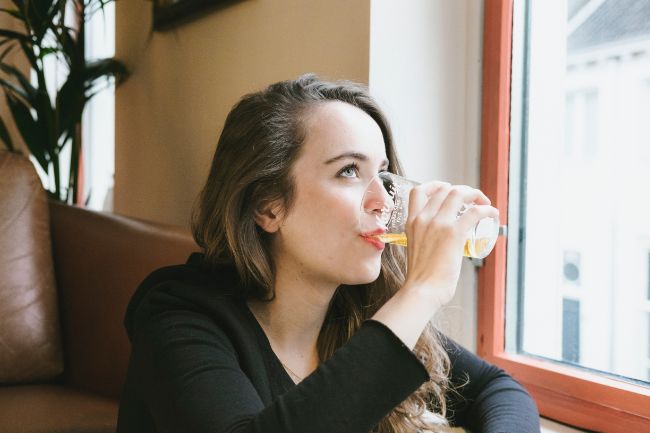 The Kind of Beers Women Enjoy
Women's tastes don't differ too significantly from men's.
Therefore the beers they like most are just as much a matter of personal preference as they are for anyone else.
There's also no such thing as girly beers.
Traditionally, however, certain beers are marketed primarily toward women.
Sweet beers, like those meant to taste like desserts and fruity beers, may be seen as more feminine. 
But this has nothing to do with the beer and is just a marketing trick.
Ciders, hard seltzers, and other drinks like beer may not be considered manly.
This doesn't make them less alcoholic or illegal, though.
Here are other beer recommendations made by, for, or seen as suitable for women.
Related Reading: Here Is A Great Maple Wine Recipe You Can Try – Learn More Here.
Beers Ladies Enjoy
Jagged Mountain Craft Brewery Bases Loaded Kolsch
The Brewers Association's The New Brewer Magazine put Alyssa Thorpe on the cover last year for a reason.
This Kolsch is light, crisp, and easy to crush. 
Enjoy going to a game at Coors Field down the street this coming baseball season.
Related Reading: What Is Craft Beer? – Dive Deeper Here.
Guinness Open Gate Brewery Blonde
You might have thought that any Guinness other than the classic Extra Stout or Draught Stout was crazy.
But, the head brewer at the Guinness Open Gate Brewery in Baltimore, Hollie Stephenson, has shown that you were wrong. 
Imbibe's 2019 Beer Person of the Year is the experimental taproom staple, Guinness Blonde Ale.
It is also a complete rethink of a Guinness but with a much lighter grain bill. 
Citra hops give the beer a soft, floral flavor and aroma with a crisp, citrusy finish.
New Belgium La Folie
La Folie is the perfect example of a Sour Ale.
Lauren Limbach, New Belgium's Wood Cellar Director, and Blender, won the Russell Scherer Award last year. 
La Folie is aged one to three years in foeders, large wine barrels.
They then come out a deep red to brown color.
Sun Up by Talea Beer Co.
Tara Hankinson and LeAnn Darland have built a name for themselves in the New York City beer market with their floral-forward beers.
Sun Up is a hazy tropical IPA made with Mosaic and Idaho 7 hops, oats, and lactose. 
It tastes like a dreamy summer day at the beach.
Related Reading: A List Of Hoppy Beer And Measuring Hoppiness: Learn More Here.
German Wheat Beer in the Style of Rosée
Beer: Hoegaarden Rosée
Hoegaarden is known for its citrus, coriander, and strong raspberry notes.
This beer tastes very sweet and is easy for women who don't usually drink beer to drink.
With its pink color, it's an easy choice when trying something different than your usual brew.
Related Reading: German Beer Vs. American Beer: Which Reigns Supreme – Find Out Here.
Japanese beers
Kirin, Asahi, and Sapporo are three Japanese beers.
Most Japanese beers have a crisp bitterness and are light and bubbly.
Even though Japanese beers aren't as sweet, they are bitter, crisp, and dry.
Great with grilled meats and other foods.
French Wheat Beer
Kronenbourg 1664 Blanc is an example of French wheat beer.
Fruity, sweet, and refreshing, with hints of coriander and spice.
This one is just right for our hot weather.
Wheat beers tend to have more carbonation and tiny bubbles, which makes them feel smooth in the mouth.
Related Reading: Delicious Chocolate Stout Recipes – Learn About Them Here
Espresso Stout
Coffee stouts, which are alcoholic versions of nitro coffee, are perfect for a woman who loves her daily coffee but doesn't like regular beer.
Heart of Darkness is a good choice for an espresso stout.
They also had Evil Takes Two Roads Into Darkness Vietnamese Stout at the Beer Fest. 
It is made with coffee beans from Vietnam and has a silky smooth texture and a strong coffee taste.
Belgian Dubbel Dubbels taste like Pinot Noirs because they have notes of malt, fruit, cocoa, and yeast.
Related Reading: Delicious Chocolate Stout Recipes To Try – Learn More Here.
Flanders Red Ale
Flanders Red Ales take a long time to ferment in oak barrels, making them a lot like red wines aged in oak.
They also have notes of leather and dark red.
Saison
Saisons are great for people who like sparkling white wine and champagne because they are bubbly, light, and have a hint of funk.
Vienna Lager
The mildly roasted malts complement the sweetness of the malts in this classic, easy-drinking type.
It tastes like fruit, refreshing, like a fruity, rich white wine like a Riesling.
Imperial IPA
Imperial IPAs are more potent than regular American IPAs.
They have even more hop flavor and bitterness, and the higher alcohol content often gives them a slight burn.
Belgian Golden Strong Ale
Belgian-style Golden Strong Ales are fruity and light, and the Belgian yeast used in them gives them a funky taste.
Fruit Beers
You can make fruit beers with almost any fruit juice or puree, making them taste sweet or sour.
Related Reading: How To Make Orange Beer – Read More Here.
Reasons for Women to Drink Beer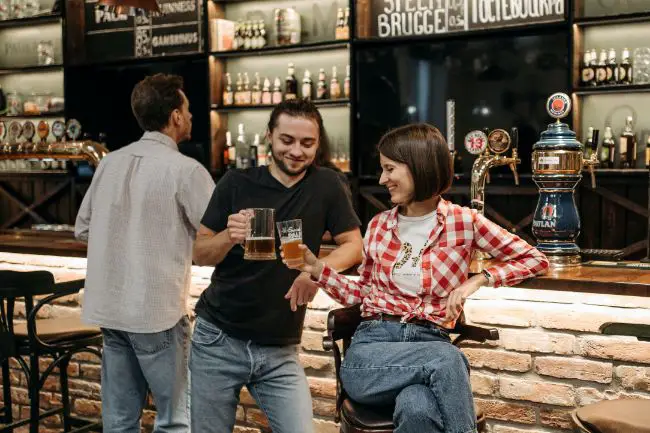 Good news for women who treat themselves to a pint of beer.
Scientific studies show that beer may protect women from ailments such as heart disease and diabetes and make them happier in the long run. 
A woman can have a moderate amount of beer if she has one alcoholic drink or one 12-ounce beer daily.
Other benefits may include the following:
Heart disease is less likely to happen if you drink beer.
Women can also build stronger bones by drinking beer.
Beer can help reduce inflammation. 
It can lower the risk of diabetes, dementia, and other mental problems.
Related Reading: 10 Delightful Maple Beers To Enjoy! – Learn More Here.
Final Thoughts
Ultimately, you still need to know their beer preference like any other.
Drinking beer for ladies generally provides them with possible health benefits, too.
Just make sure to drink responsibly.