Welcome to our curated list of the best countertop wine coolers available today! 
These compact and stylish appliances offer wine enthusiasts the perfect solution for storing or showing off their favorite bottles! 
With a focus on functionality, temperature control, and design, these coolers will elevate your wine experience. 
Let's get started! 
The Best Countertop Wine Coolers 
This wine cooler offers affordable luxury, holding up to 6 standard-sized wine bottles. 
The convenient touchscreen controls and digital display enable easy temp adjustments and interior light control — all without opening the door! 
This ensures that the cool air remains inside, maintaining optimal conditions for your wine. 
This wine cooler also features a protective glass door with double-paned mirrored glass that shields your wine from UV rays. 
Using advanced thermoelectric technology, this cooler ensures quiet and reliable cooling.
It cools your wine to a temperature range of 46-66°F (8-18°C) without vibrations or CFCs.
PROS: 
Efficient cooling 
UV protective glass door 
Soft interior light 
Compact 
CONS:
Needs additional space for proper ventilation 
The external display is not always accurate. 
Limited cooling range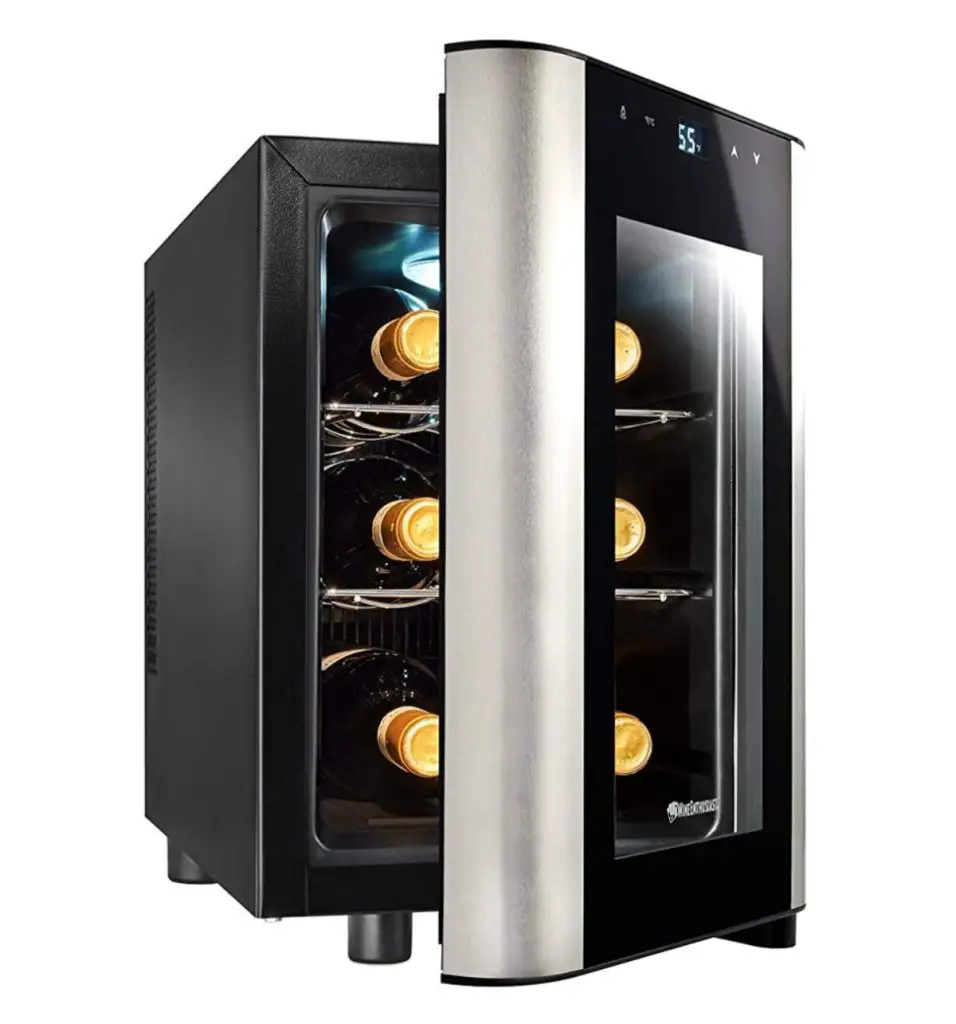 This wine cooler is designed for smaller collections, perfect for compact spaces.
Its metal racks securely hold the bottles, ensuring easy accessibility and readability. 
You can take control of the wine's temperature with the user-friendly digital touchscreen. 
Wine Enthusiast's state-of-the-art solid-state technology meets the latest energy efficiency guidelines.
This ensures efficient and quiet cooling, resulting in consistent temperatures. 
With this brand's solid reputation, this wine cooler is built to last.
They have over 40 years of experience, and this model comes with a 1-year warranty, supported by their in-house customer support team. 
PROS: 
Sturdy metal racks 
Energy-efficient 
Reputable brand 
Good customer service 
CONS: 
Only singe-zone cooling 
A little loud 
Not suitable for long-term storage or wine aging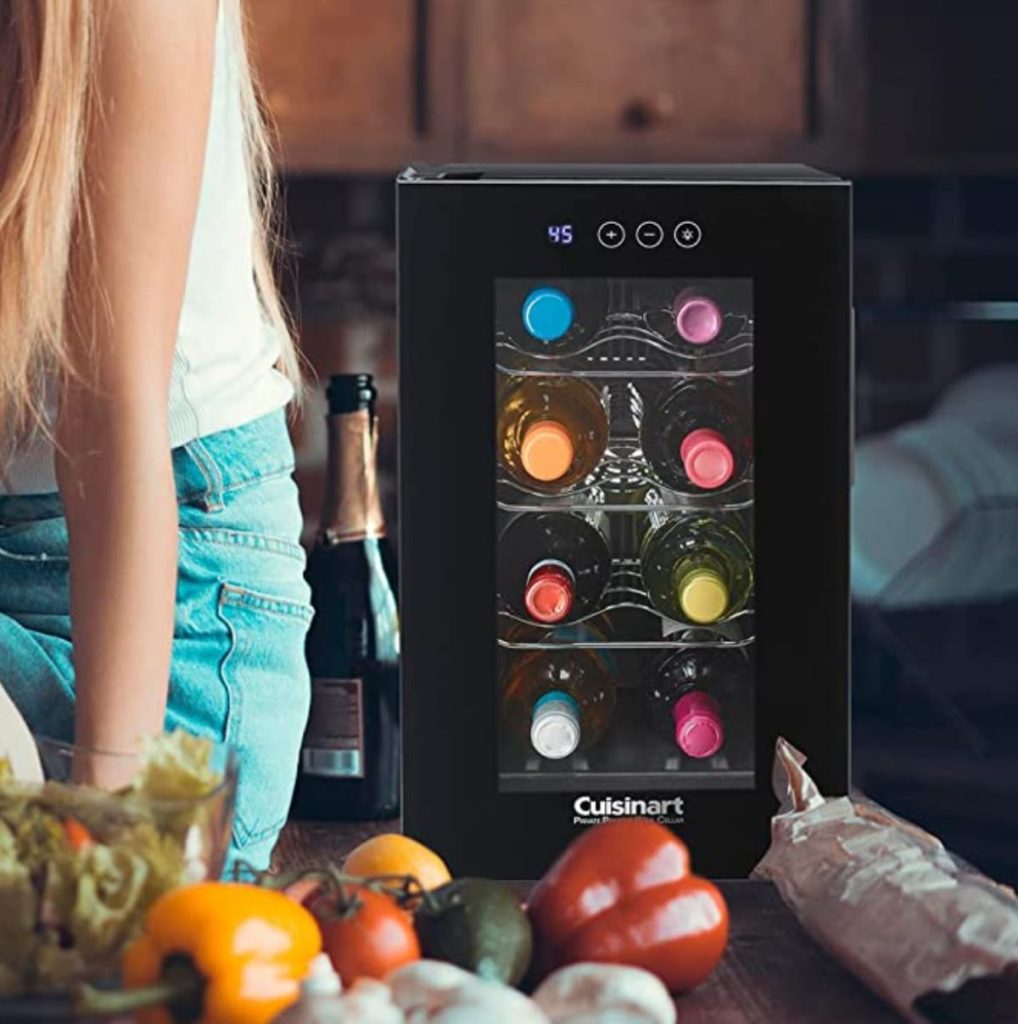 The Cuisinart Private Reserve Wine Cellar is a stylish and efficient choice for wine enthusiasts. 
Featuring an advanced thermoelectric cooling system, this wine cellar ensures minimal noise and energy consumption. 
The touchscreen controls make it breezy to adjust the temperature and interior light according to your preferences. 
Designed with sleek black housing and contoured chrome racks, this wine "cellar" seamlessly blends with any home decor. 
It offers a consistent temperature range of 39°F to 68°F, accommodating your reds and whites.
PROS: 
Accurate monitoring 
Energy-efficient thermoelectric cooling 
Classy and soft interior lighting 
Sleek housing 
CONS: 
Only singe-zone cooling 
Doesn't work well in hot and humid environments 
Doesn't fit larger bottles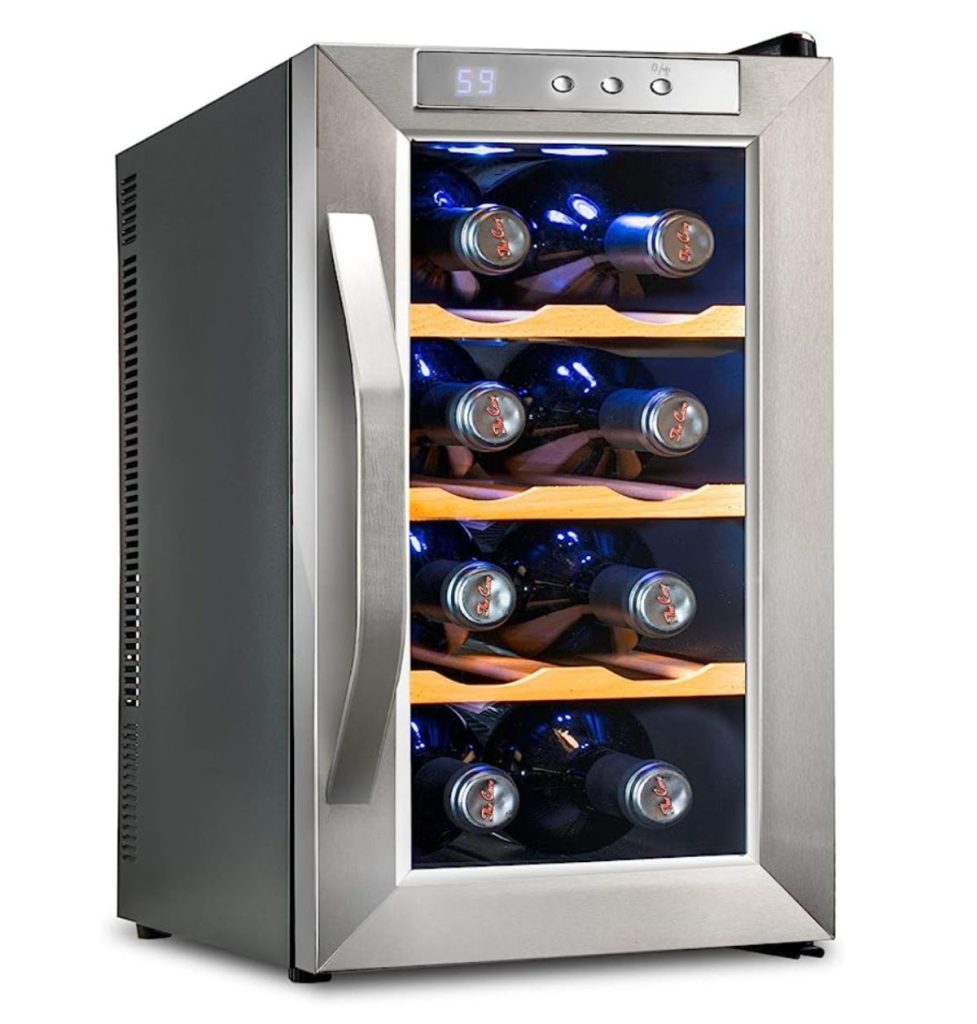 This wine cooler is a must-have for enthusiasts as it preserves wine quality and taste.
It creates ideal conditions with a consistent temperature, ideally around 55°F. 
The range of 46°F to 64°F allows for an ideal climate that brings out your wines' actual characteristics and full flavor in the long run.
Designed with insulation and solid polyurethane heavy foam, this cooler maintains constant humidity while keeping the interior odor-free. 
Tempered and smoked thermopane doors ensure darkness and block harmful UV rays that can degrade the complex molecules responsible for the unique flavors in properly aged wines.
Built with an energy-efficient thermoelectric cooling system and without a compressor, this wine cooler minimizes vibrations and operates quietly.
It allows your wine to age and settles undisturbed, preserving its naturally occurring sediments.
PROS: 
Uses polyurethane foam to maintain humidity levels
Stays odor-free 
Suitable for short-term and long-term wine storage 
Prevents cork drying 
CONS: 
Can't accommodate all types of win
Doesn't have actual humidity controls 
Doesn't fit larger bottles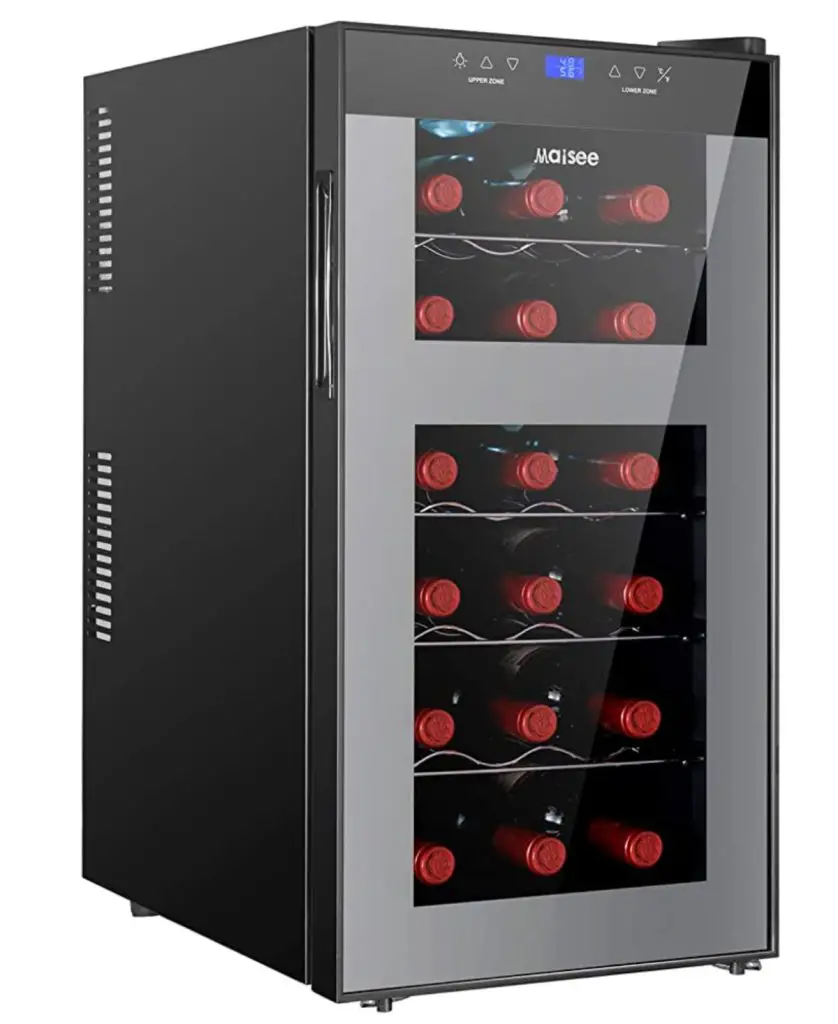 This wine cooler ensures the best taste for different types of wine with its adjustable temperature range of 44-65°F (7-18℃) and consistent humidity. 
The upper zone, ranging from 44-54°F (7-12℃), is perfect for storing sparkling, semi-sweet, semi-dry, and dry white wines. 
The lower zone, from 54-65°F (12-18℃), is ideal for sweet, brandy, semi-dry, and dry red wine.
It's compact and decorative, making it suitable for multiple spaces, like the kitchen, living room, or home office. 
Featuring thermoelectric cooling technology, this Maisee wine cooler operates quietly and with low vibrations.
It's ETL certified, consuming 25% less energy than conventional wine coolers. 
It's equipped with UV-resistant double-paned thermopane glass, providing a protective barrier for your wine collection. 
PROS: 
Dual-zone temperatures
Minimal noise and vibration disturbance 
Energy-efficient and ETL certified 
Made with ConsumerLab-certified materials 
CONS: 
No humidity control 
Inconsistent customer support quality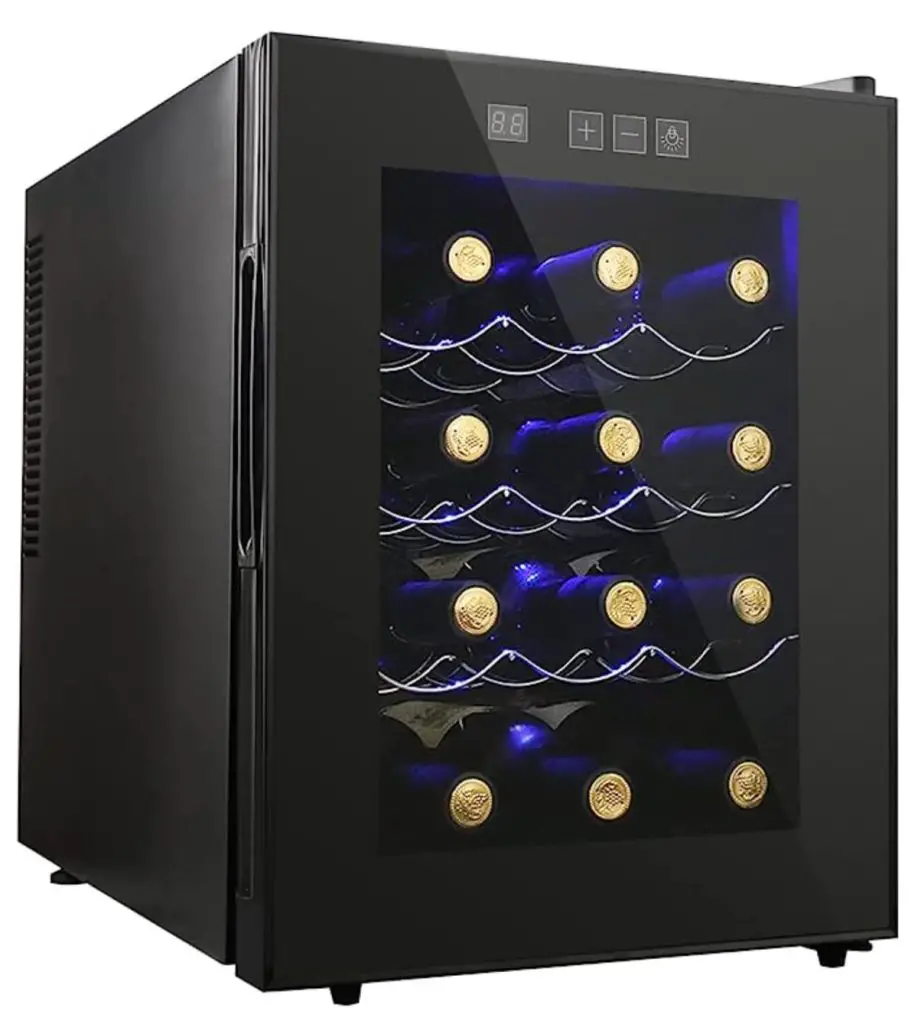 The wine cooler provides space-efficient storage for red, white, and sparkling wines. 
Its compact design allows for placement on the floor, table, countertop, or built-in space. 
Equipped with a digital touch screen, this wine fridge offers easy control and temperature adjustment. 
The bright LCD allows for convenient monitoring, even in low-light conditions. 
It has double-tempered glass doors, shielding your wine collection from harmful UV rays and preserving the tannins. 
Designed to simulate a natural wine cellar environment, the wine cabinet utilizes semiconductor thermoelectric technology to maintain a constant temperature and humidity. 
This ensures that your wines age under the most suitable conditions.
The temperature range is 54-64°F.
PROS: 
Intuitive controls 
Mimics natural wine cellar conditions 
Fits a more modern aesthetic 
CONS: 
The primary temperature range doesn't accommodate exceptional wines. 
Lacks humidity control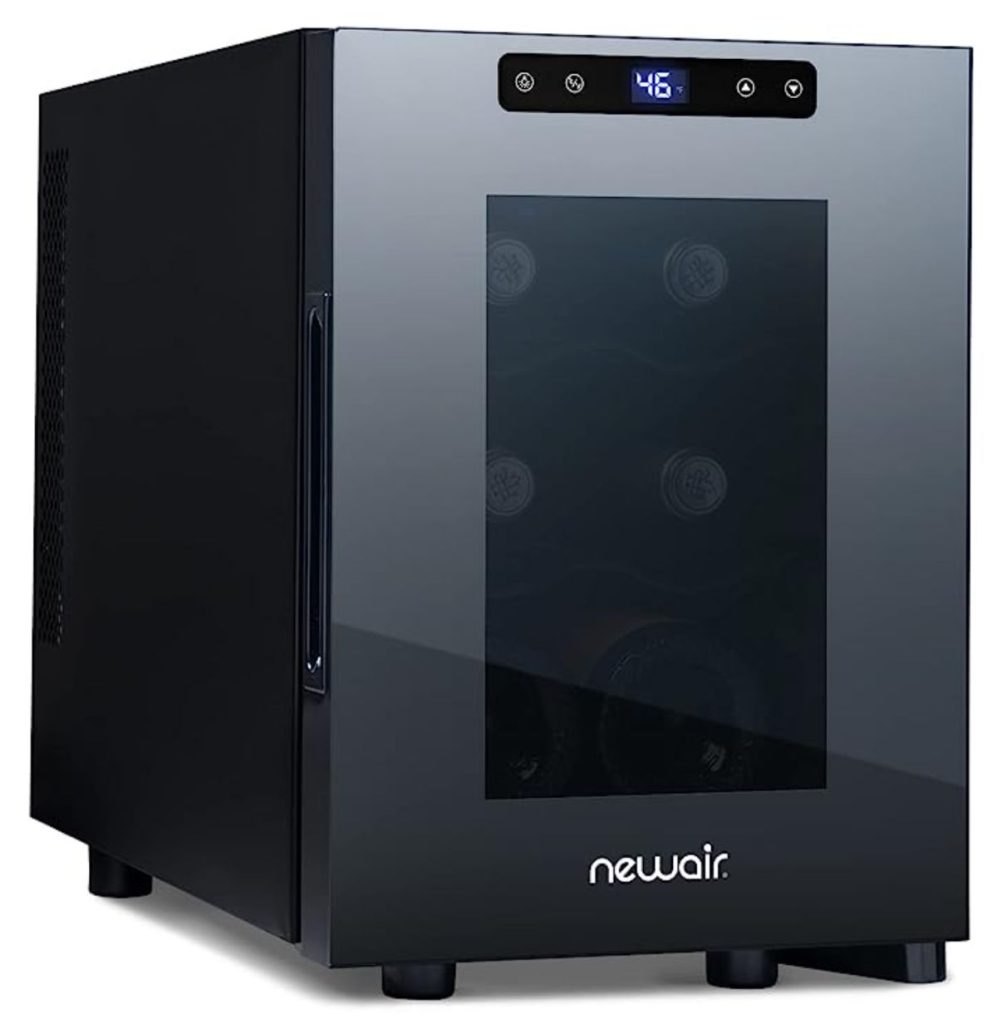 This countertop wine cooler features a frameless mirrored glass door that resists fingerprints, maintaining a pristine appearance for your guests. 
With ultra-quiet thermoelectric cooling and a built-in fan, this wine cooler provides consistent temperature without noise or harmful refrigerants. 
Plus, the vibration-free operation ensures that your wines remain undisturbed, preserving their taste and flavor. 
With the triple-pane UV-protected glass door, this cooler shields your precious collection from harmful sun rays. 
PROS: 
Stylish, frameless, fingerprint-resistant glass door 
Very quiet 
Built-in fan 
Vibration-free
CONS: 
Limited temperature range 
No humidity control 
It may require regular maintenance. 
Designed to hold up to six bottles, this space-saving wine fridge might be the perfect storage solution for your favorite wines. 
It has two removable chrome racks and a cozy interior light for convenience. 
This wine fridge preserves the true essence of your wine.
Maintaining a consistent temperature ensures that each bottle retains its taste, quality, and color over time. 
The thermoelectric cooling system delivers exceptional efficiency.
With a temperature range of 46°F to 66°F, you can create an ideal environment for your collection. 
This digital wine cooler features a sleek mirrored door, adding elegance to your space.
It's designed to block out harmful UV rays that can compromise the integrity of your wines. 
PROS: 
Unique mirrored door 
Accurate temperatures
Removable racks 
1-year warranty 
Whisper-quiet 
CONS: 
Larger bottles might not fit
No humidity control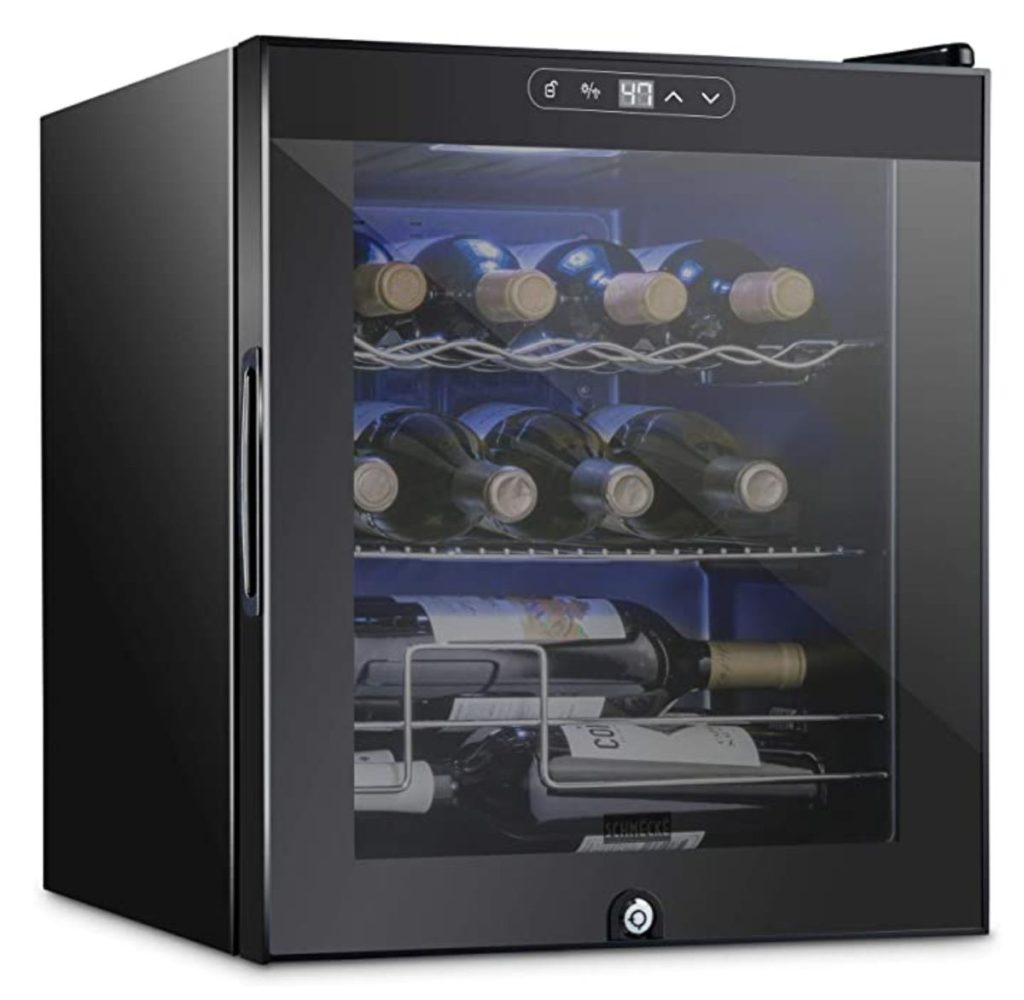 This wine cooler offers exceptional temperature stability thanks to its compressor technology that shields the interior from external heat sources. 
With a temperature range of 41°F to 64°F, it can accommodate a variety of wines, including sparkling whites, while preserving their whole flavor and aroma. 
The built-in fan ensures consistent temperature distribution throughout the cooler, creating an optimal environment for long-term wine storage. 
The wine cooler features a UV-resistant double-paned thermopane glass door that shields your collection from harmful UV light that can negatively impact wine quality. 
The soft interior lighting, powered by energy-efficient LED lights, gently illuminates your collection without fading labels or affecting the flavor. 
The removable racks allow for easy customization to accommodate different bottle sizes. 
The user-friendly touch controls and digital display make temperature adjustments and light activation effortless, even in low-light conditions.
Plus, the lock button securely locks in your settings.
PROS: 
Stable temperatures 
Built-in fan 
Removable racks 
Control lock 
CONS: 
The compressor is a little loud. 
---
Countertop Wine Cooler FAQs 
Does a wine cooler use a lot of electricity? 
Compared to traditional refrigerators, wine coolers generally use less electricity. 

These coolers often use thermoelectric technology, which is more efficient than compressor-based systems. 

Wine coolers are typically smaller and designed specifically for storing wine, resulting in lower energy consumption.

What should I look for when buying a wine cooler? 
There are a couple of crucial aspects to look for, which we used to put together the list above.

They are: 

– Storage capacity 
– Temperature range and stability 
– Cooling technology 
– UV protection 
– Humidity control 
– Shelving and flexibility 
– Noise level 
– Placement (floor, countertop, built-in) 
– Energy efficiency 
– Brand and warranty 

Why should I use a wine cooler instead of a fridge? 
A wine cooler offers more precise temperature control and a consistent environment for storing and aging wine. 

Unlike regular refrigerators, they're more suited to preserve your collection's flavor, aroma, and general quality. 

---
Conclusion 
The best countertop wine cooler will provide a convenient and efficient solution for wine lovers to store and showcase their favorite bottles. 
With their compact size, temperature control features, and stylish designs, these coolers keep wines at their best! 
We hope this list helps you choose the best countertop wine cooler so that your wine can be enjoyed anytime.
---
Other Related Articles To Read Below:
Uncorking the Secrets of Wine Through Wine Making Kits.
Great Maple Wine Recipe You Can Try.