Ready to raise your glass to the best Greek beer brands? Opa! 
Let's taste tradition as we dive into the hoppy wonders and frothy delights from Greece's vibrant beer scene. 
These brews will have you saying, "nóstimo!" (delicious!) with every sip. 
So, kick back, relax, and explore some of the most famous Greek libations. 
---
Popular Greek Beer Brands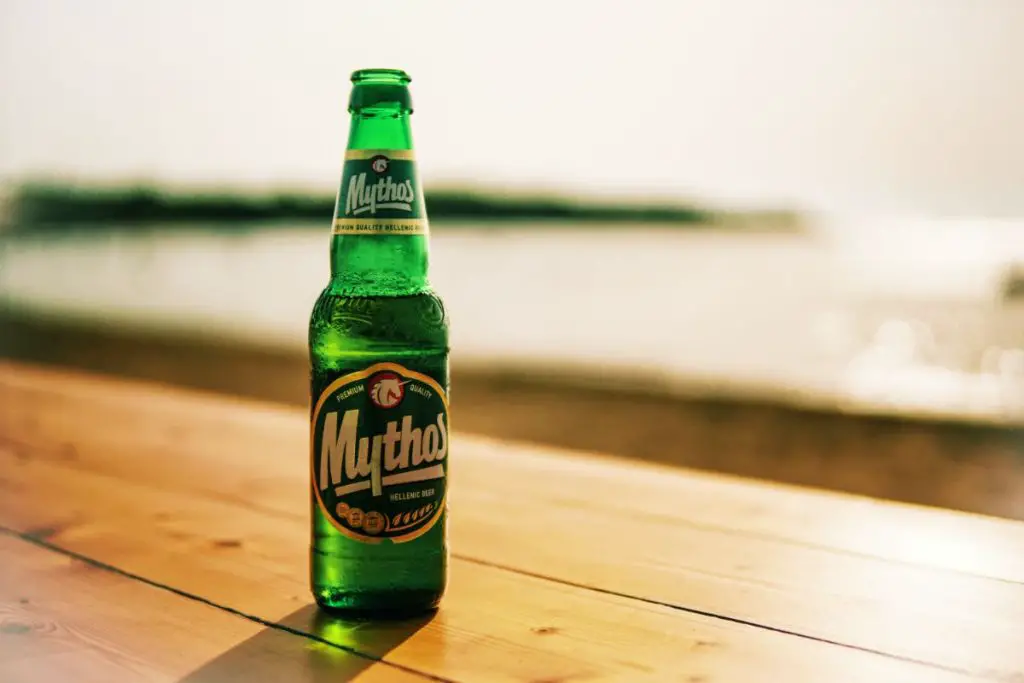 A local would probably recommend Mythos Beer if you ask about Greek beer. 
It's weird because it's a relatively young player in the beer game, popping up in 1997. 
Despite its youthful beginnings, it has quickly become THE go-to beer for many Greeks and tourists. 
This refreshing lager is made for scorching days when you're desperate for something to cool you down. 
And you don't have to be in Greece to enjoy it.
Mythos has gone global! 
You'll find it gracing shelves in many European countries and appearing in the US. 
That's because a small craft brewery doesn't run Mythos.
It's been part of the big Carlsberg Group family since 2008. 
---
Crafted by Macedonian Thrace Brewery SA, Vergina is a renowned brewing brand in Greece. 
Their European Pale Lager boasts a standard 5% ABV, striking a perfect balance. 
Its appearance dazzles with a golden hue and a foamy white head, leaving no lacing behind. 
A pleasant grainy aroma embraces you upon your first whiff, setting the mood. 
The taste unfolds with delightful notes of biscuits, grain malts, and a touch of hops. 
Soft on the palate, Vergina offers a crisp, light body with smooth carbonation, making you savor every sip. 
It's best enjoyed with Greek cuisine, but it's not so bad! 
---
In 1864, Johann Karl Fix laid the foundation for Greek brewing by establishing the famed Fix Brewery in Athens. 
But that beer legacy began even earlier, with his dad producing beer in Greece three decades before. 
Of course, there was some knowledge passed down from father to son. 
Fix beer reigned as the dominant Greek brew for over a century, thanks to its royal favor as the King's favorite beer. 
They essentially dominated the market. 
Though facing bankruptcy in 1983, Fix Beer made a triumphant comeback in 2009 under new ownership. 
They retained the beloved branding that had won hearts in Greece and beyond. 
Their premium lager boasts soft flavors and a gentle bitterness, leaving a refreshingly delightful taste on the palate. 
---
Alfa Beer proudly carries the legacy of Greek brewing traditions as the first beer to bear a Greek name. 
In a mesmerizing shade of gold, Alfa Beer delights the senses with a moderate malt yeast fragrance. 
It's a legit amber ale experience! 
What sets Alfa apart is its unique brewing process, lovingly crafted in Greece for the past 30 years. 
Made exclusively from Greek barley, it faithfully follows an age-old traditional recipe, a testament to its authenticity and precision. 
This dedication to tradition and unwavering commitment to quality have made Alfa Beer universally cherished today. 
---
Mamos Beer is a Greek sensation with a full-bodied charm. 
It boasts a distinct hoppy scent, a thick head, and a lingering finish, all tied together with a neat 5% ABV. 
Born from a fruitful partnership between the Athenian Brewery and the Patras-based Mamos Brewery, this beer hit the scene in 2018. 
Their goal was to dominate the Patras market and Western Greece. 
But one sip changed everything. 
Love for Mamos Beer spread like wildfire, resurrecting its beloved flavor through its original recipe. 
It ignited a thriving market for small-batch beers with unique labels and local character.
As a macro lager, it delights with its mildly bitter, malty taste and refreshing, thin body, making it the perfect third quencher for Grecian summers. 
---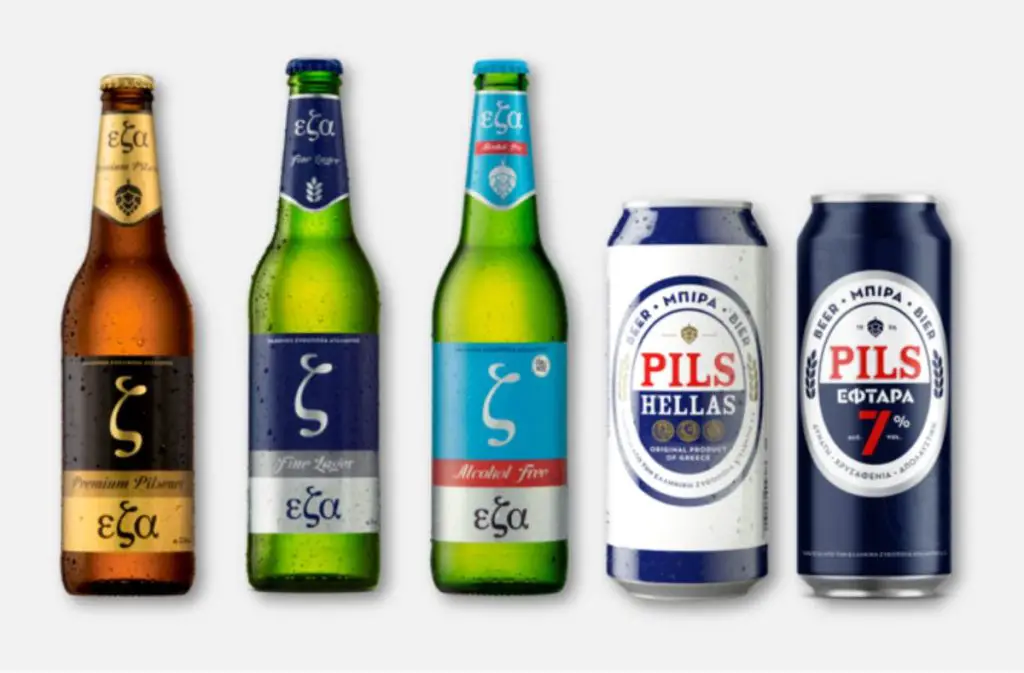 Discover the essence of Greece in every sip of Eza Beer, meticulously crafted by the Hellenic Brewery of Atalanti. 
Renowned for its top-notch quality, this distinctive Greek brew stands out. 
The brewery used fresh artisanal water sourced from the nearby Parnassos Mountain, lending it a flavor profile. 
This captivating pommy blonde lager features a complex bouquet and a full-bodied flavor that will leave you asking for another bottle. 
The secret lies in the perfect blend of quality ingredients and traditional brewing methods. 
For any beer enthusiast looking to explore the diverse world of Greek beers, Eza Beer is an absolute must-try. 
While you're at it, consider bookmarking these related posts for future reference.
---
Voreia is a shining star among premium Greek beers — an exquisite American IPA boasting a tempting 7% ABV. 
Prepare to be captivated by its one-finger thick, creamy, off-white head with excellent retention.
As you take in its aroma, you'll be greeted by a symphony of pine, 2-row barley, herbs, pale malt, and a resinous hop character. 
The bouquet is pretty striking. 
But, of course, the taste is where the magic happens. 
Hints of grapes and sweetbread harmonize with the sweetness of pale malt.
Then, a floral bitterness enters the picture. 
This beer delivers a reasonably complex profile with a clean texture, creating a smooth mouthfeel perfectly complemented by the right amount of carbonation. 
If you're a fan of IPAs, this is the leading Greek contender. 
---
Nissos Beers are lovingly produced on the enchanting island of Tinos. 
They were invented by a couple, Alexandros and Maya, who defied the Greek financial crisis to establish this independent microbrewery in 2012. 
Nissos, which translates to "island" in Greek, draws inspiration from the country's natural wonders. 
We're discussing the earth's bountiful fruits and the Aegean Sea's blue waves!
This brewery's beers stand out as the first in the world to obtain the European AFQ certification for their exceptional bioactivity. 
You can indulge in their organic pilsner, lager, Keller, Baltic Porter, and Monastic Double Ale, each boasting rich flavors, captivating aromas, and natural carbonation. 
And beyond their brewery, a cellar in the St. Francis Monestery's basement houses some of their beer, aging under ideal conditions. 
---
Zeos beers have their roots in the historic town of Argos, mainland Greece. 
They have been captivating beer enthusiasts since 1988 when Canadian brewmaster David Wood founded the brewery. 
Nestled amid scenic olive trees and orange groves, the Zeos Brewery is renowned for the exceptional quality of its products. 
And, of course, these beers have gained a devoted following. 
Zeos takes pride in its three main brews: Zeos Gold Pilsner, Zeos Black Weiss, and Zeos Blue Lager. 
Each delivers a unique and enjoyable taste experience. 
With a perfect blend of passion, tradition, and premium ingredients, Zeos accurately represents Greek brewing brilliance!
---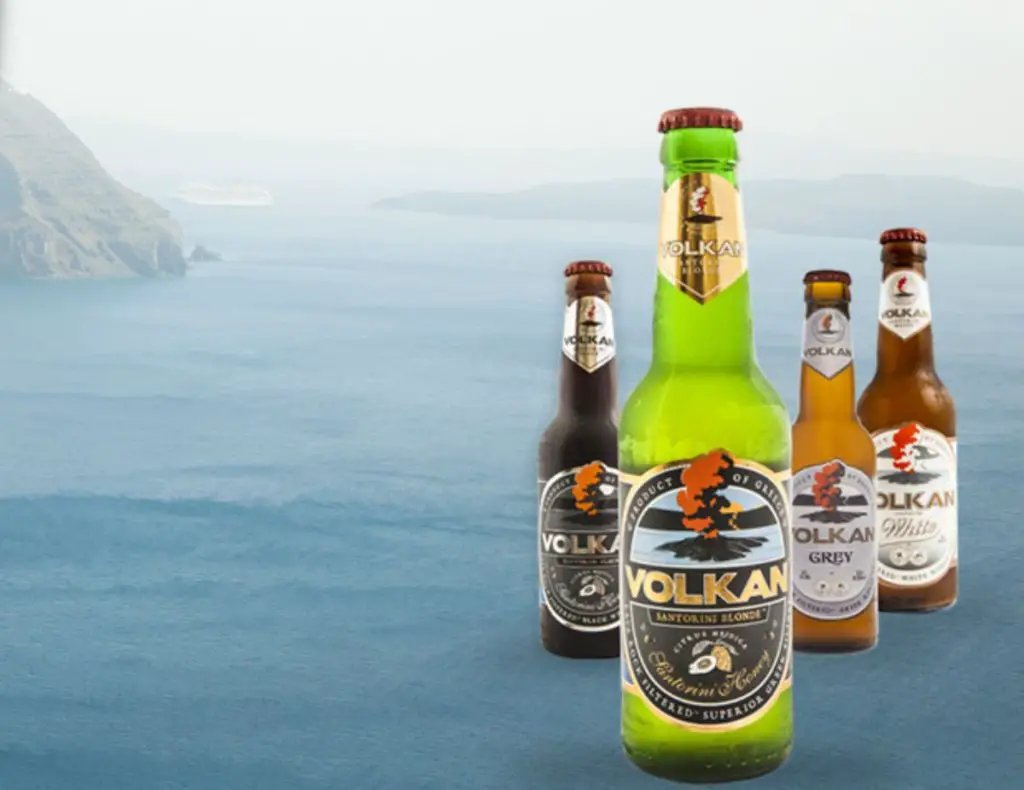 Volkan, the first Greek beer born in Santorini, draws inspiration from the finest ingredients of the Cycladic Islands. 
After all, Santorini, one of Greece's most remarkable islands, exudes a magical aura. 
In crafting Volkan, its brewery combines lava rock-filtered mineral water with the rare Santorini grape honey and ancient citrus medica essence from Naxos. 
This unique fusion produces a special beer that captures the area's essence. 
It's like taking a sip of Greece's vibrant heritage! 
---
Lafkas Beer is the marriage of Belgian expertise and Greek produce. 
It's a passionate collaboration between Michalis (Greek) and Aurelie (Belgian). Today, they lovingly run this microbrewery in Chania, Crete. 
In 2017, they created their first creation — White Mountains, a triple-hop ale. 
It has a magical citrusy aroma and a honeyed aftertaste. 
This brewery also has two other signature brews: the Chiniotissa (orange wit) and the Orpheus (breakfast stout). 
If you are in the area, book a brewery tour and beer-tasting session on their picturesque patio! 
There's nothing like sipping their beers while looking at the White Mountains. 
You can also savor their delectable brews alongside hand-made pizzas! Yum! 
---
Samos is a quaint microbrewery nestled on the island of… You guessed it! Samos! 
They take pride in their singular brew, the Valsamo Ale. 
This ale is a harmonious blend of quality malt, noble hops, coriander seeds, and the island's finest local Samos honey. 
The outcome is a genuinely refreshing beer with a rich taste, offering a one-of-a-kind experience for beer fans. 
It truly is the ideal brew for such a breathtaking setting! 
Discover and consider sampling these Swiss beer brands.
---
Greek Beer Brands FAQs 
Do they drink beer in Greece? 
It's true; the Greeks love their wine. 

While wine continues to hold its position as the primary beverage in Greece, beer consumption has seen substantial growth over the years. 

Nowadays, most beer brands are readily available throughout Greece, found in supermarkets and kiosks. 

What is the official beer of Greece? 
There isn't one. 

But many would agree that Mythos Beer is the unofficial "Greek Beer." 

Renowned for its revitalizing character, Mythos Lager is the perfect companion on a Greek beach! 

How do you order beer in Greece?
Even though most folks in Greece can communicate in English to some extent, it's always a nice gesture to know a few basics of the local language. 

Ordering a beer is one such essential skill! 

In Greek, you can say, "Býra, parakaló," equivalent to "Beer, please." 

The pronunciation is "beer-a paraka-loh."

---
Conclusion 
And there you have it!
Cheers to your exciting beer adventure in Greece!
We hope you savor the diverse flavors and rich brewing traditions that make Greek beers unique. 
Yamas!
If you're seeking additional inspiration, explore…