You're probably a beer enthusiast looking for more kinds of beer.
Maybe you're a sweet tooth looking for an alcoholic drink that suits your tastes. 
Either way, you're here curious about maple beers.
Yes, maple beers are technically beer mixed with maple syrup, but there's more to it than that. 
Stick around, as this article will provide insight into the topic and give you some examples!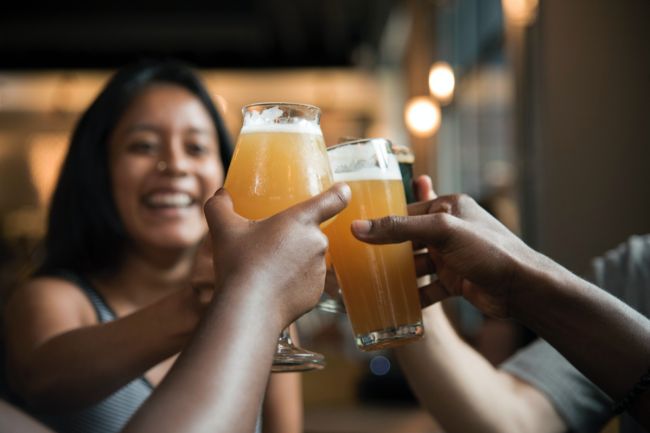 Maple Beers
Maple beers are made by fermenting the sap and wheat into barrels or bottles.
In other forms, add maple syrup for flavor. 
The sugar is used up during fermentation, and most of the flavor is lost, leaving a smooth, earthy taste behind.
But maple syrup is the most popular and successful ingredient in many brewhouses.
Maple syrup's natural sugar is a great way to boost the alcohol content of a brew but add a touch of sweetness. 
It can even give your ale a taste that reminds you of your childhood!
Even if you never drink beer for breakfast, the rich, warming taste of maple syrup in these beers is probably something you'd enjoy any time of day.
Related Reading: Fermenting Maple Syrup. What Is The Outcome? – Learn It Here.
Evil Twin Michigan Maple Jesus
What happens when you add even more to Even More Jesus?
You get Michigan Maple, Jesus. 
Evil Twin took a base of Even More Jesus and aged it in bourbon barrels with fresh maple syrup.
The result is fantastic. 
All these tastes unite, making you want to thank Jesus for this beer alone.
Funky Buddha Brewery Maple Bacon Coffee Porter
A maple Bacon Coffee Porter beer was instrumental in Funky Buddha's 2010 launch.
It's a great beer; it smells like malt and resembles maple syrup. 
You shouldn't expect anything less from a brewery known for making beers that taste like different foods.
Related Reading: Best Beers For Beer Cheese Soup – Learn More Here.
Sierra Nevada Maple Scotch
The Sierra Nevada is the only one of its kind in the field.
They took a Scotch ale base and added a bit of maple to make a well-balanced beer that is surprisingly easy to drink. 
It smells like malt and maple and goes down smoothly, making you forget it's 7.3% abv.
Be careful because this one will sneak up on you.
Hardywood Park Craft Brewery Christmas Pancakes
Hardywood Park takes its excellent Gingerbread Stout and ferments it a second time on maple syrup for this holiday beer.
Now that it comes in bottles, Christmas Pancakes is a fun GBS variant that fans can try to find.
Related Reading: Delicious Pastry Stout Recipes – Learn It Here.
Sam Adams's Maple Pecan Porter
Sam Adams has a beer in this category, just like in so many others, but this porter is special.
It starts with a malty, chocolatey, and slightly sweet flavor and ends with a strong, but not too strong, maple flavor. 
Unlike many maple beers, this flavor doesn't overpower the drinker, and the maple doesn't make the mouth feel heavy.
Hop Cakes by the NoDa Brewing Company
Big, toasty stouts may seem like the most obvious way to use maple syrup in a beer.
But NoDa, named for the excellent North Davidson neighborhood of Charlotte, North Carolina, has turned that idea on its head. 
They made a Double IPA that is sweet, citrusy, and, yes, boozy at over 12 percent alcohol by volume.
The Bruery Autumn Maple
The Bruery took a play on a style that was becoming popular and nailed it.
The fall maple beer is a pumpkin beer made with 17 pounds of yams and many maple syrup, molasses, and spices. 
Even with all those ingredients, it still turns out to be a well-balanced, tasty beer.
It tastes like sweet potato pie in the best way possible.
Fayston Maple Imperial Stout by Lawson's Finest Liquids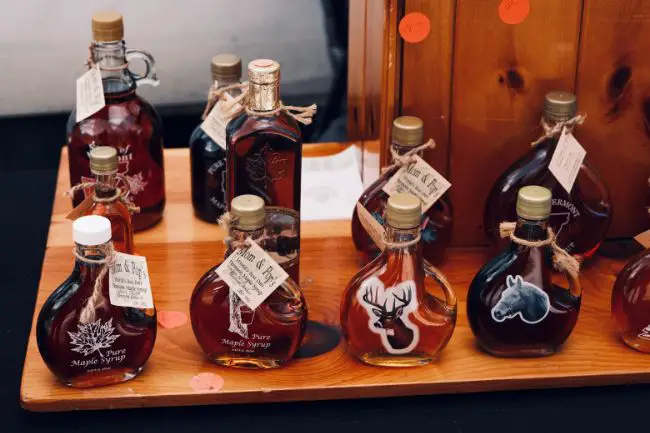 This Lawson's cellar-aged beer has two gallons of Vermont maple syrup per barrel.
It also has coffee and dark chocolate flavors, making it a complex beer that is surprisingly easy to drink. 
It's a great beer to have with hearty holiday meals.
The Funky Buddha Maple Bacon Coffee Porter
What happens when a well-known brewery like Funky Buddha picks a theme?
The Maple Bacon Coffee Porter is for you. 
The idea is simple: make a beer that tastes like a full dinner breakfast.
It starts with the smell of coffee, cocoa, maple syrup, and bacon. 
It goes down smoothly and combines the flavors rich and complexly.
It would be easy for a beer like this to go wrong, but Funky Buddha ensures nothing goes wrong.
The Mornin' Delight Toppling by Goliath Brewery
Mornin' Delight is a very hyped-up beer because it is part of a small group of beers you can only buy with a ticket.
People come from all over the country to Toppling Goliath's brewery in Decorah, Iowa, for the chance to buy only two bottles. 
The "World Class" rating on Beer Advocate makes it seem like the beer might be worth the trouble.
Check out the best sweet potato and pumpkin beers for similar seasonal tastes.
Related Reading: A Great Maple Wine Recipe You Can Try – Learn More Here.
Final Thoughts
Maple beers are a nice sweet spin on the beer industry, spreading joy and even nostalgia to patrons.
Remember that it is still an alcoholic beverage, so drink responsibly!