Quench your thirst and satisfy your cravings at Obscurity Brewing, where you can find artisanal and wood-smoked BBQs.
This rustic-industrial brewery with amazing views is the perfect spot for a casual night out as you indulge your taste buds with delicious drinks and meals. 
This brewery is not just about the beer and BBQ; they also aim to showcase the best of Elburn.
Inside their store, you can find the Obscurity Beercade and Social Gaming Hall Pop-up during the year's first quarter. 
It has the games you love, like pinball machines and classic arcade games where you can compete in leagues and win prizes. 
So come down, and let's explore some delicious drinks that Obscurity Brewing offers.
Visit: 
Mon – Thu
11 AM – 9 PM
Fri – Sat
11 AM – 11 PM
​Sunday
11 AM – 8 PM
Call: 630-995-3062             
Beers
Obscurity Brewing's beers are like hidden gems, so if you don't want to miss a unique brew, find here your new favorite:
Island of Misfit Beers – Train With Square Wheels
Spread the holiday cheers with this delicious Milk Stout with a smooth and creamy texture, sweetness, and 5% ABV.
Since it is a milk stout, it has lactose that gives the signature sweetness, making it the best pair with your holiday desserts. 
It is like a warm hug on the cold holidays, so sip this comforting and delicious brew with your favorite pumpkin pie or brownies.
Related Reading: Delicious Chocolate Stout To Try – Learn More Here.
Island of Misfit Beers – Dolly For Sue 
Indulge yourself with this deliciously rich and complex Belgian Strong Dark Ale, made with traditional Belgian brewing. 
At 7.52% ABV, it has the perfect combination of sweet and spicy with notes of caramel and raisin, which are some holiday symbols. 
This ale is also full-bodied with surprising flavors thanks to the holiday spices that give it an inviting and warm aroma.
Related Reading: Brewing A Nut Brown All Grain Ale – Read More Here.
Island of Misfit Beers – Sam 
Take a sip of another sweet holiday treat in this Milk Stout that offers creamy goodness at 5% ABV, thanks to the lactose.
The mix has a touch of vanilla to give it holiday vibes and a velvety smoothness for the warm texture. 
Its rich and indulging flavor makes it an inviting drink to celebrate any season as you cozy up by the fire.
Good Kiss 
If you're looking for a beer with bursting flavors and the perfect blend of hops, look no further than this Braggot IPA.
This American-style IPA uses buckwheat honey, Citra, and Mosaic hop to give it a deliciously malty and citrusy finish. 
At 6.1% ABC, it packs a smooth and drinkable texture with a kick of sweetness that complements the bold hop flavors.
Launch Juice 
Experience Obscurity Brewing's new take on the classic New England IPA with their Midwest Hazy IPA.
It uses Citra, trident hops, corn, and oats, so it's bursting with texture and flavor guaranteed to satisfy you.
There's also lactose present in the mix to give you a smooth and creamy mouthfeel, a cloudy appearance, and hoppy goodness.
Scarlet Doom 
This light red ale is Obscurity's take on the classic American Amber that has a smooth texture, balanced flavor, and satisfying finish. 
Brewed with Vienna Red X Caramel 120 Malt and Bravo hops, this ale has a complex malt profile that gives it a rich and full-bodied flavor. 
Unlike other Red Ales, it is not overly bitter and hoppy, so you can take a sip without scrunching your face.
Vanilla Doom 
This Red Ale is another take on the American Amber Red Ale with a hint of vanilla for that perfect drink during a lazy afternoon. 
It has a hint of vanilla and a blend of caramel and malt to achieve a rich and full-bodied flavor, so it is sweet and creamy. 
At 5.5% ABV, this Red Ale gives you a perfect blend of flavors without weighing you down and keeps you wanting more. 
Related Reading: Everything You Need To Know About Swamp Head Brewery – More About It Here.
BEEDELICIOUS – Blueberry Black Currant 
This Session Mead is what you need if you want a delicious and refreshing mead to drink on any occasion. 
At 6.9% ABV, with hints of blueberry and black currant notes, it is light and easy to drink because of its sweet and fruity flavor.
Session Mead hits the right spot whether you like the classic Meads or something refreshing and fruity.
BEEDELICIOUS – Raspberry Cherry 
Another Session Mead flavor you must try is the Raspberry and Cherry, bursting with fruity flavor in every sip. 
With 6.9% ABV, it makes a good drink for a hot day, thanks to the delicious blend of cherry and raspberry flavors.
It uses a decent amount of carbonation to make it easy-drinking and to delight your taste buds with a deliciously fruity brew.
Average Gose 
This Traditional Gose Sour Ale is a light, easy-drinking beer at 3.2% ABV, perfect for summer sipping.
It uses a touch of salt and sourness to give it a signature tang you can only taste in this Gose. 
Thanks to its bright and zesty flavors, this beer is your perfect pair to spicy foods to optimize your beer experience.
First Time Feeling: Cherry & Pomegranate 
Berliner Weisse Sour Ale is a tart and fruity beer with 15 IBUs and an ABV of 4% for a light and refreshing drink. 
Brewed with a blend of cherry and pomegranate, it has the perfect balance of sweet and sour to keep things interesting. 
You can pair it with light salads, seafood dishes, and desserts without getting tipsy.
Related Reading: How To Make Sour Beer – Learn It Here.
First Time Feeling: Blueberry 
This Fruited Sour Ale has jam-packed flavors, making it sour, light, and refreshing to quench your summer thirst. 
Its low alcohol content makes sip after sip easier, with every sip bursting with fruity goodness thanks to fresh blueberries.
It is the perfect pairing for light-grilled dishes, seafood, salad, and desserts because the tart flavor complements them nicely.
Related Reading: Delicious Blueberry Recipes You Can Try At Home – Find Out Here.
Classic Drinks 
Their brewery serves classic drinks that complement their specialty dishes like BBQ.
Smoked Jalapeno Margarita
Mezcal Margarita is a signature cocktail drink that is bold and smoky that's sure to pack a punch. 
To build a complex flavor, it has high-quality mezcal, homemade smoked jalapeño syrup, orange liqueur, and lime juice. 
There is also a touch of spice and heat as they serve this cocktail in a Tajin-rimmed glass and pickled jalapeño.
Smoked Bloody Mary
Surprise your mouth with an explosion of flavors with this house-made fusion cocktail that's like a whole meal in every sip.
The drink uses smoked tomatoes, garlic, Sriracha, celery bitters, and your choice of vodka or other liquor. 
To top off the serving, you can drink it in their Tajin-rimmed glass and lime, lemon, and pickle garnish. 
Smoked Orange Old Fashioned
Take a sip of elegance and indulgence with the Four Roses Bourbon cocktail that uses homemade smoked orange simple syrup.
There is a hint of bitters, orange peel, and zesty pop of citrus to give this classic drink a smoky and sophisticated twist.
Related Reading: How To Make Orange Beer – Read More Here.
Seasonal Treats
Obscurity Brewing offers an exciting range of seasonal treats to satisfy your sweet, spicy, or savory cravings.
Pom-Mosa
It sounds delicious, festive, and fancy.
That's what Pom-Mosa is, which is the combination of pomegranate and prosecco. 
It uses edible gold glitter to make it even more glamorous, perfect for any special occasion or holiday. 
Pomegranate Margarita
Pomegranate Margarita is a cocktail made from Casamigos tequila, Pama pomegranate liqueur, triple sec, and sour mix.
It has a sweet and tart flavor profile, and a slight tanginess served in a salt and Tajin-rimmed glass for added flavor.
NY Sour
The NY Sour is a classic cocktail with a complex flavor profile.
Thanks to the combination of whiskey, fruit, and wine. 
It uses New Riff Rye Whiskey, lemon juice, Pinot Noir, Fee Brothers foaming bitters, and syrup served in a rocks glass over ice.
Related Reading:  All About Sweet Beer—Definitions, Examples, and Food Pairings – Find Out Here.
Final Thoughts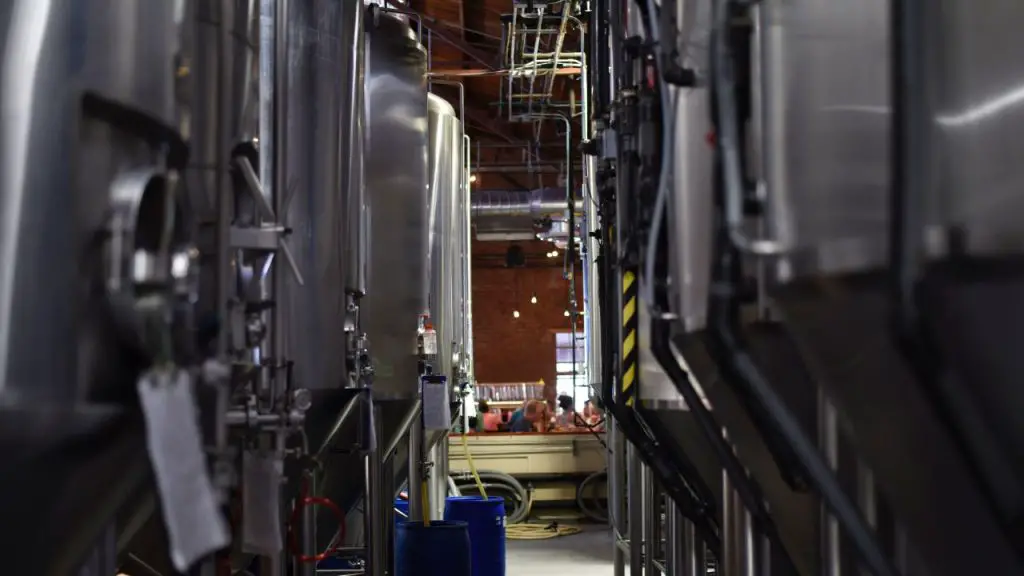 Obscurity Brewing is an expert in creating unique and innovative meads, evident in its diverse beverage selection. 
This brewery stands out if you want to try drinks with unusual ingredients or age innovatively. 
The ingredients are locally sourced, like honey from local beekeepers in their meads.
To support the community while bringing the finest drinks. 
So head down to Obscurity Brewing and Craft Mead for an exciting addition to your favorites!