Solemn Oath Brewing is a brewery based in Naperville, Illinois, that takes inspiration from Belgian and barrel-aged beers.
John Barley, the founder of Solemn Oath, created a concept for a brewery after hosting a beer-tasting party in San Diego.
It ignited his passion for creating beer as the people enjoyed the taste while Barley enjoyed the beer-making process.
It gave birth to the Solemn Oath Brewery, where you can experience locally made brews that are perfect for any occasion. 
They also offer a membership club called The Old Order, where you can access their exclusive barrel-aged beers, 14 cans of beer annually, and other limited releases.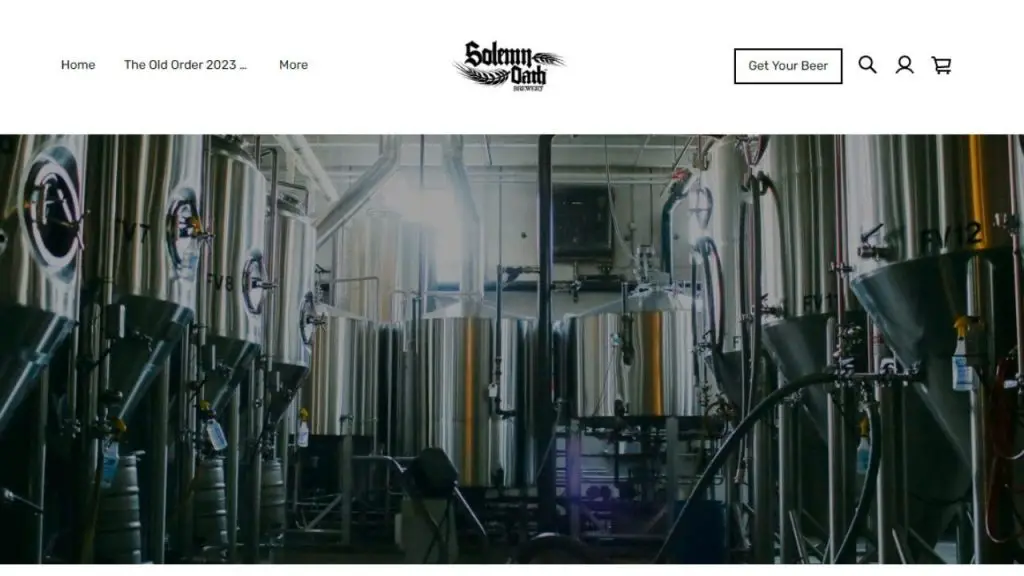 Visit: 
1661 Quincy Ave #179, Naperville, IL 60540
Mon-Thu: 12 PM -10 PM
Fri-Sat: 12 PM – 11 PM
Sun: 12 PM- 9 PM
2919 W Armitage Ave, Chicago, IL 60647
Mon-Thu: 2 PM – 11 PM
Fri-Sat: 12 PM – 12 AM
Sun: 12 PM – 11 PM
Call: 630-995-3062
Hidden Hand Brewing
Solemn Oath Brewing offers Hidden Hand Brewing products on its site, which uses locally sourced ingredients to make uniquely flavored beers. 
A collaboration between the two is a match made in heaven, with their expertise creating endless beer possibilities.
But if you want to check out the distinct flavor profile of Hidden Hand Brewing beers, here are some of their best sellers:
Hidden Hand Unicorns Don't Believe In You Either
This collaboration with Pipeworks Brewing Co. is a one-horned wonder as it uses an all-star lineup of hops to create a complex and delicious flavor profile.
It is a double dry-hopped IPA with Citra LUPOMAX, Mosaic LUPOMAX, Cryo Simcoe, and more, creating a layered taste like zesty and fruity. 
A respectable 7.05% ABV is the perfect drink for a lazy afternoon or sharing with friends. 
Related Reading: How To Make Orange Beer – Learn It Here.
Hidden Hand Through The Universe
This Imperial Stout with cocoa nibs and vanilla takes you on a journey in the galaxy because of its delicious and decadent taste for the sweet tooth. 
It has an ABV of 14%, a real heavyweight, but its flavor is smooth and rich, like a well-aged bourbon.
Related Reading: Delicious Chocolate Stout Recipes To Try – Read More Here.
Hidden Hand Boundary
It is a carefully brewed beer with a curated blend of hops like Mosaic, HBC 431, and HBC 630 for that flavor and aroma. 
At 6.5% ABC, this IPA is perfect for outdoors with its floral and herbal aroma, but you have to note that it has lactose. 
Hidden Hand Alive On The Sun
This Hazy Double IPA is an explosion of flavors with a complex blend of Sultana, Citra, Lotus, and Mosaic hops. 
One sip of this heavyweight beer takes you through the dark skies with its 7.5% ABV, but the pure pleasure of fruity, hoppy, and bold flavors makes up for it.
Hidden Hand Black Night Sighs
Black Night Sighs takes you on a cosmic journey with their infusion of fresh vanilla and hand-toasted coconuts for that flavorful beer experience. 
This Imperial Milk Stout gives you a rich, unique, and velvety taste that will take you to another dimension.
India Pale Ales
Solemn Oath Brewing offers hazy, juicy, bold, and bitter IPAs you can enjoy in cans.
Championship Vinyl
This Double Dry-Hopped IPA is like making the perfect mixtape with its delicious blend of Citra, Mosaic, El Dorado, Centennial, and Simcoe. 
This bad boy has severe hoppy goodness, giving it a layer for that harmonious and complex taste.
Related Reading: Hoppy Beer – Find Out Here.
Double Small Wave City Club
This hazy double IPA has Citra, Motueka, and Mosaic hops aboard as you sail for a flavor adventure of citrus and fruity goodness. 
It has a rich and complex taste that keeps you riding the waves at 7.8% ABV, so if you like heavyweight drinks, this great brew is for you.
Extra Small Wave City Club
This double dry-hopped IPA is the perfect drink on the beach if you're craving something fruity and zesty.
It has hints of lemon and lime thanks to the Citra hops, while the tropical touches come from the Mosaic and Motueka hops. 
Small Wave City Club
This carefully crafted beer has a beautiful blend of hand-selected malts, cultivated yeasts, and top-notch hops. 
Their Mosaic and Citra hops can blow your taste buds away with their tangerine and blueberry goodness with a hazy-straw yellow hue.
Butterfly Flashmob
Butterfly Flashmob is a dance party in your mouth as you sip their flavorful Belgian Ale. 
It is citrusy, tropical, floral, and sweet, thanks to the hops that give it a fresh and crisp finish.
Seltzers
City Water is a hard seltzer line by Solemn Oath Brewery, the first locally-made seltzer in Chicago.
City Water Peach Lemonade
This seltzer took the juiciest and ripest peaches and squeezed them right into a pitcher of lemonade to create a refreshing flavor. 
It is the perfect drink on a hot summer day, but without the sugar and calories, so your taste buds will thank you for taking a sip.
City Water Mixed Berry
Mixed Berry is like a reliable friend you can count on.
With their refreshing and delicious taste, you can trust them to be a perfect drinking companion. 
It is crisp and dry, but despite its simple taste, it is satisfying and guilt-free, with 5% ABV, 0 grams of sugar, and 110 calories, and guilt-free.
City Water Grapefruit
Grapefruit is unapologetically original with its bold and tart taste that rocks your taste buds at 5% ABV.
It has no fake flavors or funky aftertaste, so you can taste pure grapefruit tangy goodness.
City Water Lime Coconut
This refreshing seltzer flavor has a balanced blend of crisp lime and sweet coconut, making it the perfect summer drink.
With only 5% ABV, 110 calories, and zero sugar and gluten, it is a guilt-free way to enjoy a tasty beverage.
City Water Valencia Orange Cranberry
Valencia Orange & Cranberry reminds us that everything else is insane.
A naturally delicious obsession with fun-loving dry experimentalism. 5% ABV, 110 calories, 0 grams of sugar, 1 gram of carbs, gluten-free.
Related Reading: Why Does Draft Beer Taste Better – Learn It Here.
Other Beverages
Wilderness of Illusions
The sublime citrus and dry peach saison has some serious flavor with every sip.
You can taste white peppercorns, bubble gum, and lemon peel. 
This collaboration with Is/was Brewing is a real gem.
Treat yourself to this irresistible brew that your taste bud will appreciate.
Punk Rock For Rich Kids
Punk Rock For Rich Kids brings a gentle mosh pit of flavors that gets taste buds dancing and wanting more.
The floral peach and stone fruit notes of Azacca hops with a spicy hint of Belgian phenolics for that magical flavor.
Gold Buck
An unfiltered American lager is what you need if you want something delightful, crisp, and dry. That keeps you refreshed in every sip.
The Noble hops are aged in their Missouri white oak foeder for six weeks to achieve the delicate vanilla notes and subtle tannins.
Lü
This brew is so soft you can quickly drink it on any occasion, thanks to the elegant fruitiness for the irresistible taste. 
You can share this refreshing and delicious brew with friends because of its convenient 160z 4-pack packaging.
BBA Scroll & The Lamb
Enjoy chocolate in a new way with this rich and complex imperial stout, rich and deep with melted fudge. 
The vanilla rye-barrel char nose for that unique finish to enjoy on a chilly evening and pair with your favorite dessert.
Related Reading: The Best Beer for Acid Reflux, Stomachaches, and Heartburn – Learn More Here.
Final Thoughts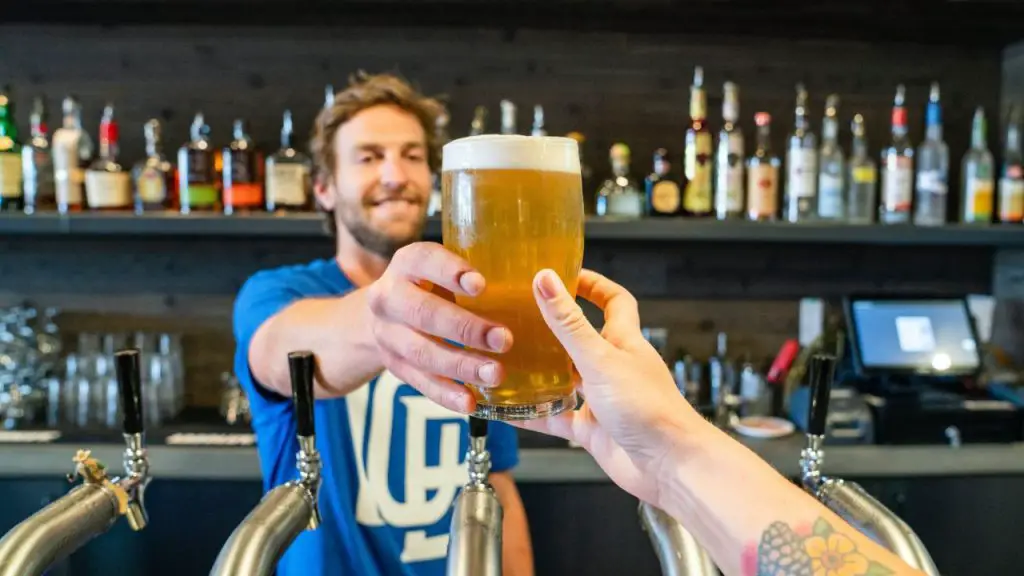 That is just a taste of what Solemn Oath Brewing is capable of.
An innovative approach to creating unique and refreshing drinks.  
As one of the top-tier craft breweries in the US, it is worth trying their beverages as they show passion for creating outstanding beers. 
Try it to understand how this brewery can knock your socks off, whatever your drinking preference. 
So head down to their taproom and get ready to experience a one-of-a-kind beer experience.