Spotted Cow is a big deal.
Many bar owners are scrambling to have this brew on tap. 
It's ubiquitous in Wisconsin.
You'll have difficulty finding a bar or restaurant that doesn't serve it. 
So, is it worth the hype? 
Well, yeah. It became its brewery's flagship beer when folks got their mouths on it. It has since won several awards. 
By now, it's safe to say that it has earned its legendary status. 
If you haven't had it before, read on to find out what all the fuss is about! 
What is Spotted Cow Beer?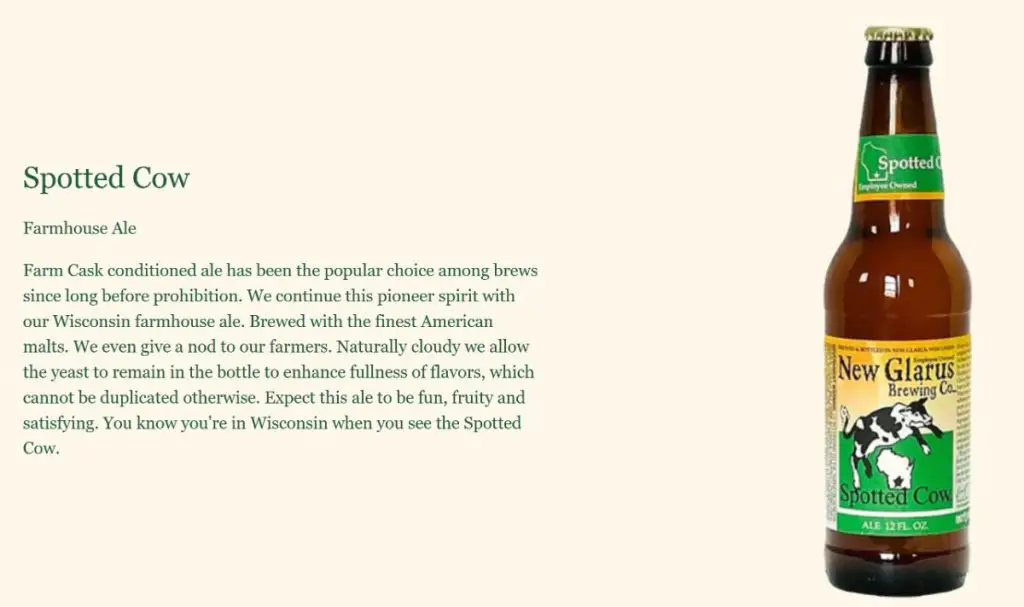 Since 1997, New Glarus Brewing has been pumping out the famed Spotted Cow. 
This beer is the most popular product coming out of this brew house.
Around 66% of New Glarus' annual output of 245,000 barrels is of this particular brew.
Spotted Cow, previously only available in kegs and bottles, joined Moon Man as the second New Glarus beer to be canned in 2016. 
Spotted Cow is now available for purchase by the case.
That's pretty unique for a craft beer!
It combines Pilsner malt, white wheat, and caramel malt and is cask-conditioned and unfiltered.
New Glarus claims its distinctive taste comes from using its healthy water.
This beer is fermented with German ale yeast and brewed with noble Saaz hops.
Related Reading: The Difference Between Craft Beer Vs. Beer – Find Out Here.
What's With The Name?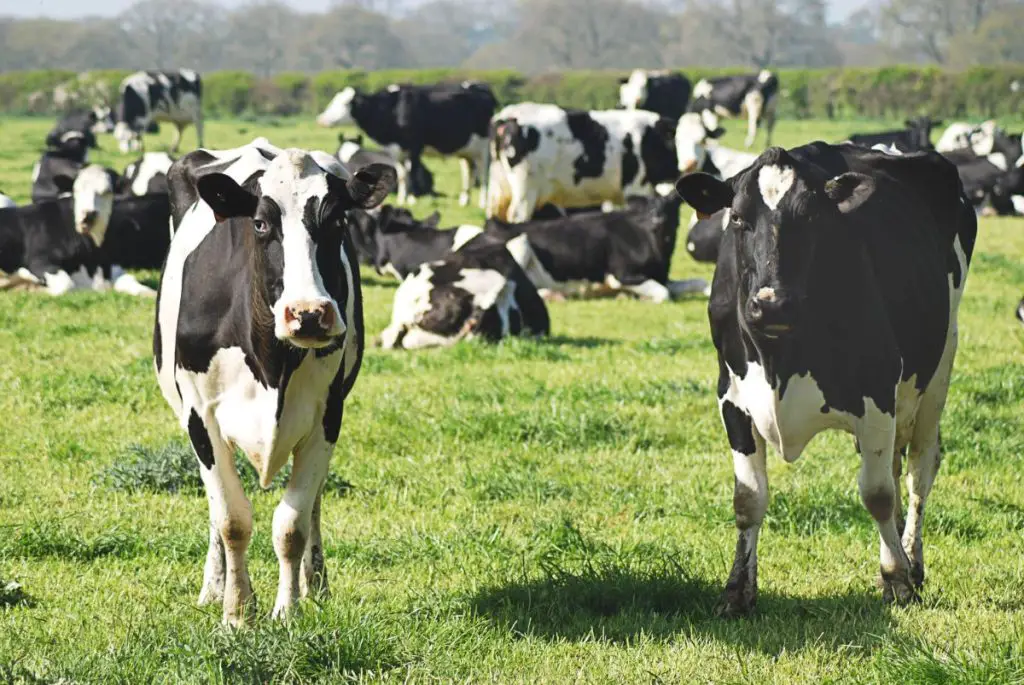 Owners Deb and Dan came up with the name way before the brew. 
First, there was the name.
Dan and Deb traveled through the countryside north of London to collect an award for their Wisconsin Belgian red ale. 
She realized that visitors to Wisconsin probably assume the same about the state's abundance of spotted cows as she did when she first saw all the sheep.
She came up with the idea to call a new beer "Spotted Cow."
Dan's final product, a beer with a farmhouse aesthetic, was a good fit for the moniker.
What Does Spotted Cow Taste Like? 
Unlike an IPA, Spotted Cow won't knock you over. 
It has a flavor reminiscent of honey, orange peel, or citrus, with an excellent middle ground of malt and hops.
There's a lingering taste of bread after drinking it.
It has fruity and earthy characteristics typical of farmhouse beers and pairs nicely with many dishes, particularly BBQ and various kinds of cheese.
Related Reading: Best Beers For Beer Cheese Soups – Learn More Here.
What Type of Beer is Spotted Cow?
Many would describe it as a cream ale.
It gets classified as such because it's a naturally hazy farmhouse ale. 
The brewmaster Carey says it's challenging to box Spotted Cow as a specific type of beer.
It's almost like not being able to name the genre of a particular piece of music. 
I would describe it as a hybrid beer. 
It has its roots in Old World Wisconsin.
Carey got his inspiration from a random brew pot he found exploring a German farm. 
It's the closest we can get to what a German farmer would have brewed in the 1850s. 
Unlike hoppy pale ales, which are all the rage these days, it looks like Pilsners and Lagers were the in thing back then. 
Carey assumed that Wisconsinite farmers would have used the plentiful barley, wheat, and corn for the grains.
The hops would come from the Czech Republic. 
Carey explains that they shifted to an all-malt recipe several years ago to avoid using GMOs. 
You'll know what you have in your hand is a Spotted Cow because it looks cloudy.
That's a result of it being unfiltered. 
Carey explains that this was done to honor the farmers of Wisconsin and the cloudiness of the cask-conditioned ales that were common before Prohibition.
B brewer's yeast typically falls to the bottom of bottles or cans.
So, you will have to roll it back and forth with the palm of your hand on a level surface to reintroduce the yeast. 
Related Reading: Choosing Between Yeasty Beer – Read It Here.
What is Spotted Cow's Alcohol Content? 
Spotted Cow, clocking in at an ABV of 5.10%, is an exceptionally drinkable brew that excels in practically every respect. 
This beer's 5.10% ABV makes it enjoyable without being overpowering.
You could be sipping it all night.
Related Reading: All About Beer Alcohol Percentages – Dive Deeper Here.
The Verdict: Is Spotted Cow Any Good? 
The beer's flavors are spot-on, it's easy to drink, and it has a refreshingly clean aftertaste.
Beer is good if it tastes how it's supposed to.
If you need more convincing, you can check out the positive feedback left for Spotted Cow on several review platforms. 
The experts at Wine Enthusiast magazine rate it a 92.
The online UNTAPPD community has rated Spotted Cow, giving it an average rating of about 3.89/5 stars. 
And it received an 85/100 (Very Good) on Beer Advocate's officing rating scale. 
There will always be doubters and critics, but Spotted Cow is considered more than a decent beer. 
Can I Buy Spotted Cow Outside of Wisconsin? 
New Glarus has no interest in selling its beer outside of its home state.
They discovered they could be successful without ever selling to other markets. 
The brewery has no interest in exporting its beer to other countries.
It can be successful without ever selling to other markets.
You can learn more here about domestic beer vs. imported beer.
According to prior accounts, New Glarus left areas like Chicago because the graft and hassle of getting establishments to carry their beer weren't worth it.
As a result, New Glarus has done well by limiting its beer sales to only Wisconsin.
Regarding beer production, New Glarus placed 12th among American craft breweries and 21st among all national breweries in 2021.
It'll not be easy to find Spotted Cows anywhere else. 
So if you find a local bar carrying it, you might as well try it! 
Related Reading: Is Brewing Beer Illegal — Licenses and Regulations – Learn About It Here.
Final Thoughts 
If you haven't tried a farmhouse ale before, there's nothing better than Spotted Cow for your first experience. 
The slightly cloudy brew with lovely floral notes and yeasty undertones finishes clean.
It might remind you of some German ales with a slight citrus twist. 
Refreshing!