Hey there, beer aficionados! 
Get set to savor the hop-tastic world of Swiss beers! 
We're talking precision, passion, and brews that will make your taste buds dance. 
From crisp lagers to bold ales, Switzerland has it all. 
Get ready to discover the top picks, uncover hidden gems, and dive into flavors that'll blow your mind. 
So, grab a cold one, and let's hop on this epic beer ride together!
---
Most Popular Swiss Beer Brands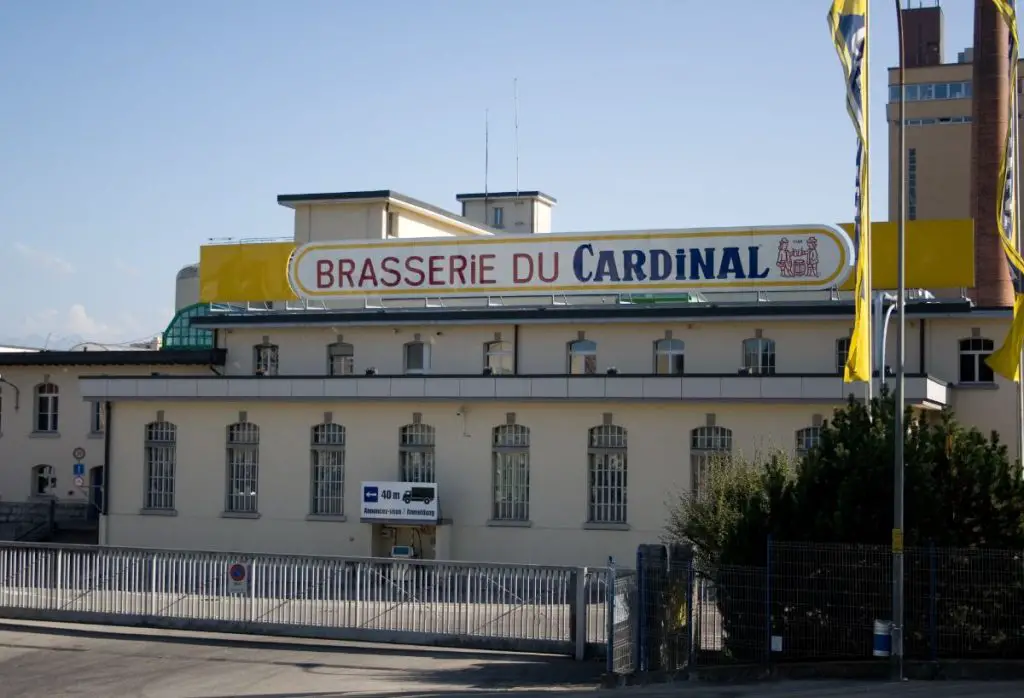 Cardinal, a renowned Swiss beer brand, traces its roots back to 1788 when François Piller established the brewery in Fribourg. 
In 1991, Feldschlösschen acquired the brewery; later, in 2000, the Carlsberg Group acquired Feldschlösschen.
At the heart of the Cardinal brand is its flagship beer, the Cardinal Blonde. 
It's a refreshing pale lager prominent in the country's beer scene. 
You can expect a clear, golden appearance with a generous white head. 
The aroma carries hints of slightly grainy malt and grassy hops. 
With a light body and lively carbonation, the taste unfolds with a slight bitterness, making it incredibly thirst-quenching. 
Feldschlösschen, which translates to "small castle in the fields," proudly represents a leading Swiss beverage and brewing company in Rheinfelden, Aargau, Switzerland.
Established in 1876, it operates Switzerland's largest brewery.
Their prized creation, the Feldschlösschen Original, is a refreshing and well-balanced light yellow radiant beer. 
It boasts a distinctive bittersweet hoppy note and a pleasant "beery" taste that sets it apart. 
Whether after work, as an aperitif, or at festivals, the Feldschlösschen Original is an excellent thirst quencher.
This invigorating Swiss Lager embodies the traditional Gurten style. 
It has a strong character, a pale yellow hue, and a bold, hoppy taste. 
It's the ultimate thirst quencher, delighting the senses with its sparkling and refreshing nature. 
With each sip, you'll experience the essence of Swiss craftsmanship and brewing excellence. 
The Hürlimann Brewery has a remarkable history that started in 1836 when Albert Hürlimann founded it in Zürich. 
It remained a family-run business for five generations.
Talk about keeping it in the family! 
Now, Albert Hürlimann is no ordinary brewer. 
He was a yeast expert, a true pioneer in yeast research. 
He created the mighty Samichlaus, AKA "Santa Claus" beer. 
This bad boy had a mind-blowing 14% ABV and was brewed every December 6 to be sold the following year. 
It's now one of the rarest beers in the world!
They also have the more common Hürlimann Lager. 
This brew perfectly blends light bitterness and a subtle fruity aroma, delighting your nose and taste buds. 
The Valaisanne Brewery in Sion is a historic and cherished institution that has delighted beer lovers for over 150 years. 
It was founded in 1865 by Maurice de Quay, a Dutch pharmacist passionate about brewing. 
This brewery's flagship product is the Valaisanne Lager. 
This bright golden Lager boasts a magnificent head, setting the stage for a delightful drinking sesh. 
With a traditional brewing process and adding aromatic hops like Spalter Select, Saazer, and Bravo, the Valaisanne perfectly blends spicy and slightly fruity hop aromas. 
The result is a well-balanced beer, offering a pleasant mouthfeel and a delicate bitterness to round off the experience! 
---
Calanda Bräu, located in Chur, Graubünden, Switzerland, crafts lagers with pure Alpine spring water. 
Formerly the Rhätische Aktienbräuerei (founded in 1902), it adopted the name Calanda Bräu in 1971, overseeing independent breweries in Canton Graubünden.
Their beer pours a clear golden color with a lasting head and pleasant lacing. 
The aroma entices with corn, barley, and grain notes. 
The taste starts slowly, revealing a creamy, slightly sour, and citrusy profile with a deep, hoppy undertone.
It's the perfect beer for a slow, relaxing drinking session — an enjoyable brew with friends! 
Since 1834, Eichhof has been synonymous with the brewing tradition. 
What started as a small brewery in Lucerne, Switzerland, has evolved into a nationally significant brand. 
Their flagship brew, the Eichhof Lager, pours a clear and lovely yellow color with lively carbonation. 
It forms a nice, white head that leaves some lacing. 
Its aroma is faint yet pleasant, carrying a hint of malt and sweet grain and a touch of lemon. 
Exceptionally smooth and light-bodied, this Lager goes down quickly, thanks to the pure Swiss waters. 
Many say it's reminiscent of tonic water with a delicate touch of light malts!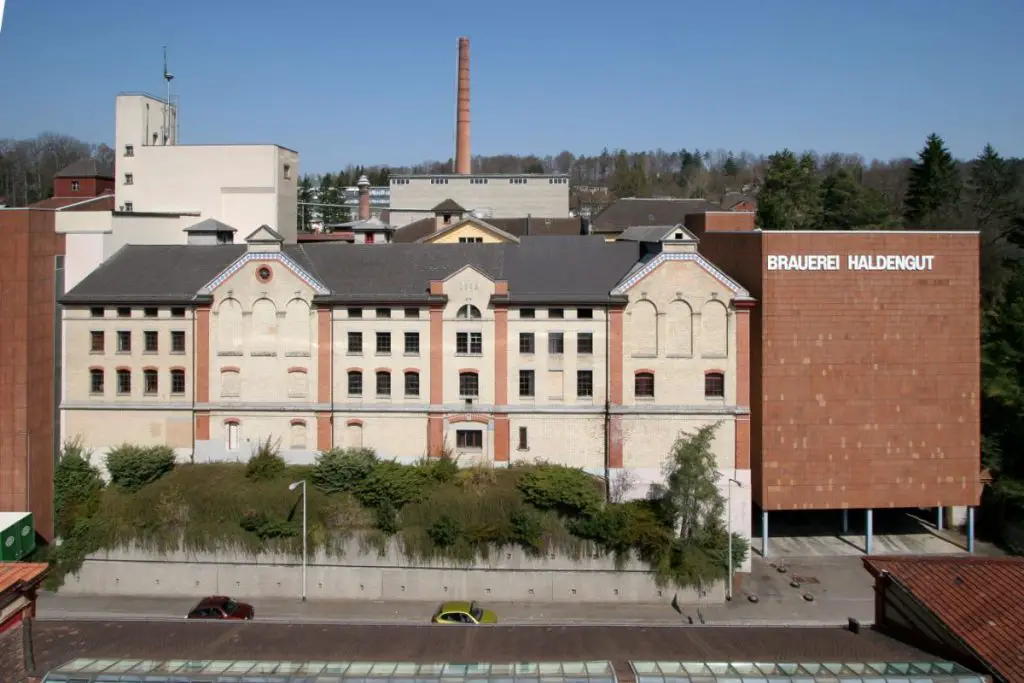 For an astounding 175 years, Haldengut has woven its captivating tale of taste, leaving beer lovers spellbound. 
With time-honored brewing techniques and handpicked premium ingredients, their brews have become a cherished Swiss tradition. 
This brand is widely celebrated in the Winterthur region and across eastern Switzerland. 
The star of the show? 
The Haldengut Lager! 
This exquisite European Pale Lager-style beer is crafted in the heart of Chur. 
As you savor this golden brew, you'll find it refreshingly moreish, leaving you yearning for another sip. 
It has a clear golden hue crowned with a frothy white head. 
Its aroma takes you on a journey of caramel malts dominating, elegantly balanced with mild hoppy notes. 
Ittinger Brewery, AKA Klosterbräu Ittingen, is a renowned Swiss brewery in the picturesque Ittingen Charterhouse. 
That's a former monastery in Thurgau whose rich history dates back to the 12th century!
Ittinger continues the age-old tradition today, crafting various high-quality beers with a blend of modern brewing techniques. 
Their Original Klosterbräu has a clear amber body and a creamy, long-lasting white foam head. 
The aroma perfectly balances malty and hoppy, offering scents of toasted bread. 
As you take a sip, the subtle sweetness lingers on the tongue, revealing woody undertones. 
It finishes with a decently sweet and grainy flair, leaving you satisfied and eager for more!
---
Independents 
Since 1886, the Locher family has been brewing Appenzeller Bier. 
They're all about craftsmanship, carefully selecting raw materials, and sustainable production. 
Today, it's a traditional and innovative gem in the Appenzell region. 
From one generation to the next, they've upheld their passion for brewing, creating a beer that reflects their values and history. 
So, is it worth the hype? 
It certainly is! 
Their world-famous Quöllfrisch Hell stands out with its gentle and slightly fruity nature. 
Crafted from natural Aplstein spring water, pure Pilsner malt, and a selection of hops from Stammheim and Hallertau, this beer exudes a well-balanced character. 
Then, a three-month stay in a cool cave adds to its unique flavor! 
This charming artisanal brewery is nestled in Saignelégier, Jura, Switzerland.
Led by Jérôme Rebetez, a skilled oenologist turned brewmaster, this brewery has earned international praise for its exceptional barrel-aged beers and bold experimentation.
BFM likes to bend the rules and create brews that dance to their tune. 
They use unconventional ingredients and push the boundaries of traditional beer styles. 
Their pride and joy? 
The renowned Abbaye de Saint Bon-Chien — a robust, wine-like delight boasting around 11% ABV! 
It has a complex, sour character that will leave your taste buds enchanted. 
From small batches to lovingly hand-packaged products, BFM takes great care in bringing their customers the finest brews. 
Watch for their "Grand Cru" versions, specially selected from individual barrels, making waves in the US market! 
Beer brewing has deep roots in St. Gallen, going way back to 820 when three breweries dotted the map of its Abbey District. 
Among them, the iconic Schützengarten brewery stands tall, founded in 1779 by the visionary Johann Ulrich Tobler. 
And guess what? 
It's still in its original spot, making it Switzerland's oldest brewery!
But Schützengarten isn't just any old-timer; it's also a shining example of modern brewing tech. 
With its success and independence, it remains a thriving and innovative force in the Swiss beer scene. 
Their iconic St. Galler Klosterbräu is a brew that you can't miss! 
Its malty aromas will transport you to a bygone era when monks grew the grain and baked their bread in-house. 
This amber-colored beauty has a creamy foam crown, setting the stage for a compelling drinking experience. 
Discover and consider sampling these Greek beer brands.
---
Swiss Beer Brands FAQs 
What is the most popular beer in Switzerland? 
Feldschlössen takes the crown as Switzerland's most beloved beer brand, winning hearts nationwide. 

You'll find other top contenders behind it, like Cardinal and Valaisanne.

Is Heineken a Swiss beer? 
Since 1984, Heineken Switzerland has dominated the Swiss beer scene and beverage market, employing about 620 people. 

They have breweries in Chur and Lucerne. 

How do the Swiss say cheers? 
In Switzerland, they say "Proscht/Pröschtli" for cheers. Don't forget to maintain eye contact while clinking glasses!

Regarding this tradition, the deal is to do it with everyone at the table, with no exceptions! 

---
Conclusion 
Here's one last golden nugget for you: "Ein Bitte Bier." 
That means, "one beer, please." 
When chilling with a Swiss beer crowd, whip out this German phrase to get your drink on. 
You're going to want a beer with that Raclette!
Furthermore, if you're in search of additional ideas, explore…