Are you tired of using your home kettle, stovetop, and propane burner for brewing beer?
No worries; you must upgrade your setup to brew even better beer one day. 
This is where the best homebrew systems come in! Stick around; this article is the best homebrew system that could work for you!
BeerDroid Fully Automated Brewing System
The BeerDroid was made in Australia by Cooper Breweries and sold by BrewArt in 2016.
It's for craft beer lovers who don't have time or interest in homebrewing.
When you use the BeerDroid homebrew systems, you won't need fermenting vessels, messy transfers, or a lot of other brewing tools like hydrometers, stirring spoons, and auto-siphons.
The BeerDroid can make up to 2.6 gallons of high-quality beer with a few buttons.
You can take control of the process from afar using the app if necessary.
You will also be able to use more than 40 "Brewprints."
Brewprints are recipes that are based on the world's best beers. 
Each package has everything you need, from hops to yeast, to make 10 liters of high-quality beer.
Each package has high-quality ingredients with no chemical additives or preservatives.
The Brewprints are cheap and well worth the money, especially for people just starting to learn how to make beer. 
The BeerDroid has two main parts that work together.
The first part is called the BeerDroid, which controls brewing and letting the beer ferment. 
The second part is the BreFlow, a keg, and a beer dispenser.
When you turn on the tap, cold and tasty beer comes out, and you don't have to deal with CO2 canisters. 
You can also use the built-in scale to see how much beer is left in the keg.
It's easy to use, and its patented End of Fermentation Technology lets you know when your brew is done fermenting and ready to be put in a keg.
Related Reading: Using An Electric Brewer: The Pros And Cons – Read More Here.
Cleaning
Cleaning and maintaining the BeerDroid doesn't take much work on your part.
This unit comes with disposable keg liners and beer lines, so you don't have to spend extra money on cleaners and sanitizers.
Instead, you can use that money to buy new Brewprint packages that taste better. 
When you buy the BeerDroid for the first time, it comes with a BrewPrint started to pack for an American Pale Ale.
Set the BeerDroid on a table or countertop to make your first batch.
Next, add water and your Brewprint package of choice. 
When your brew is done, it will go into a mode for storing said brew.
The LCD panel starts the process by hand, which is easy to use, or from afar, using the BrewArt App.
Since the BeerDroid can control temperature, you can put it in your settings and choose the temperatures for yeast growth, brewing, and kegging.
If you just got your BeerDroid out of the box and are eager to use it but don't know where to start, it already has settings for Ales and Lagers.
The Grainfather Homebrew Systems
Looking at the Grainfather, you can see that it is a well-thought-out brewing system that looks good.
The Grainfather is an all-in-one brewing system made of #304 stainless steel. 
It has many features, but you can only use grains with it.
This automatic homebrew system costs less than $100 and uses 120 volts to turn your grains into perfect batches of beer every time.
This unit has a stainless steel inner basket used for mashing and keeps going around.
After the boil, when you need to cool down the wort, the built-in counter-flow chiller with a copper inner coil does all the work.
This 8-gallon automated brewing system is well-made.
It has a tempered glass lid, 6 Watt mag drive pump, and expanding grain basket. 
It employs a 1600-watt heating to get your wort to a full, rolling boil.
Find your favorite recipe, add water, and heat. It's that simple. 
Next, add the grain and turn on the recirculation pump so the mash can finish.
Once the wort has reached the pitching temperature, please remove it from the heat and chill it using the counter-flow chiller.
If you follow the directions, cleaning up will be easy as well.
With the Grainfather, you can produce grain-based craft beer without carboys, tubing, plastic buckets, and other accessories.
Ease of Use
The Grainfather makes it easy to make beer without taking away from the art of brewing.
In the world of automated homebrewing, the Grainfather has a lot of fans.
This beautiful #304 stainless steel machine only works with grains.
Both the installation and operation of this system could not be more straightforward.
With its easy-to-use app, which has a lot of beer recipes, you can even control the brewing process from afar.
The Grainfather is excellent for creative brewers who make great craft beers and respect the art.
ClawHammer Supply Brewing System Version 2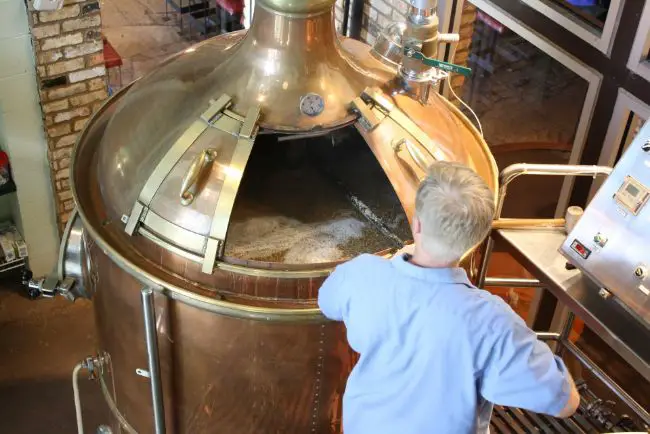 The Complete Homebrew System, Version 2 from Clawhammer Supply, is a 10.5-gallon, semi-automated system with everything you need.
The high-quality, food-grade #304 brewing kettle can easily handle the mash and boil.
Using a BIAB, or "Brew in a Bag," technology, this all-grain brewing system does everything in this single stainless steel kettle.
This means you don't have to worry about balancing between fermenting vessels and making a mess when moving the beer.
Brewing in a bag means using stainless steel hop and grain baskets to make the whole batch in one kettle.
The Clawhammer semi-automated homebrew systems make it easy to brew because you can just set it and forget about it.
This model is perfect for the home brewer who wants complete control over their brewing.
In other words, the Clawhammer unit has no ready-made recipe kits. You'll create a one-of-a-kind beer using a recipe tailored to your tastes.
The handles are silicone-coated material that can withstand high temperatures to protect your hands.
The 15 amp PID digital controller controls this brewing system, and a 1650 Watt heating element brings the water to a boil.
Other features include:
A high volume/temp heavy-duty pump.
A removable temperature probe.
A 20-plate heat exchanger wort chiller.
Durable silicone hoses.
Quick-release hose fittings.
The ClawHammer Supply Brewing System Version 2 is a device that helps keep the art of making beer alive. It has a 15-amp PID digital controller takes care of everything, so you can set it and forget it.
Other features include:
A 20-plate wort chiller.
Complete set of required hoses and adapters.
A 1650-Watt heating element.
A heavy-duty pump.
It's made of #304 stainless steel and uses BIAB to make the most incredible beer.
Related Reading: How To Brew Beer At Home Without A Kit – Learn More Here.
Final Thoughts
These will be worth getting for beer enthusiasts willing to invest in homebrew systems.
Even though these systems on the list are great, there are more out there waiting for you to discover! 
Find the one that best fits you and your home.