Phase Three Brewing produces various beer styles, all featuring stunning artwork on the company's cans. 
Because of their hard work and dedication, they have become one of Lake County's largest and most respected brewers.
Read on to find out their history and the beers that they carry. 
The History of Phase Three Brewing 
Phase Three gets its name because its history is divided into three phases.
Here's how the company came to be: 
PHASE 1 
This story takes place in Schaumburg, Illinois, where Shaun, Evan, and Brittany first met and began working together. 
Later on, Brittany and Shaun would get married and have kids. Evan was Shaun's best man. 
Soon, Shaun worked on making a name for himself as a brewmaster at the restaurant and brewery he worked at. 
Brittany is a graphic designer, and it was her job to make custom labels for him. It was a match made in heaven. 
And Evan, who was in charge of the restaurant, was busy organizing the increasingly popular beer release parties. 
It was an exciting time for the three of them. 
PHASE 2
After a while, Shaun went to a new brewery in Villa Park, where he helped establish the business' beer program from scratch. 
Following that business launch, Evan was hired to serve as general manager.
Brittany was still at it with the design. 
Two years later, they decided to venture out on their own. 
PHASE 3
They contacted a brewery in Lake Zurich, Illinois. 
And I guess it was fated because that brewery was willing to them on as contract brewers.
They were given two tanks to work with for three-week periods. 
Nine months later, with the support of their staff, the three of them could brew, bottle, and distribute their beer. 
Because of this success, they could buy the needed equipment and the lease to launch operations independently in Lake Zurich. 
What Makes Phase Three Brewing Special 
Phase Three Brewing results from the trio's combined and deliberate application of their years in the brewing industry. 
They started from two tanks, and now they use over twelve! 
The journey was sometimes grueling but ultimately gratifying for the founders and everyone who enjoyed their beers. 
Phase Three Brewing Beers
Here's a list of PTB's most popular brews: 
Pixel Density: IPA – New England / Hazy (IPA with Citra hops) 
Strawberry Chantilly: IPA – Milkshake (IPA brewed with strawberry puree, vanilla, milk, and sugar)
A Bushel of Apple: Golden Ale (Peanut caramel apple ale) 
P3 Pils: American Lager 
DDH Double Pixel Density: IPA – Imperial / Double New England / Hazy (Pixel Density with Citra Cryo hops)
Tropical District: IPA – Milkshake (Brewed with guava, coconut, lactose, mosaic, and Sabro) 
F-Stop: IPA – Imperial, Double New England, Hazy (IPA with Citra, El Dorado, and Vic Secret) 
Energetic Mind: IPA – Imperial, Double New England, Hazy (Brewed with ripe pineapples, citrus, and dank) 
Rule of Thirds: IPA – Imperial, Double New England, Hazy (Brewed with pilsner malt, oats, and wheat)
Pressed Maple: Porter – Imperial, Double Coffee (Brewed with Tugboat coffee and maple)
Related Reading: Top Organic Brands In The Market – Read More Here.
Phase Three Brewing Experimental Beers 
PTB is a big fan of experimenting with different beer styles and changing the ingredients and production methods. 
Committing to large production-size batches is not always possible, so these brews are unique. 
Smaller batches allow them to experiment with yeast, hop addition timing, grain use, and many other variables. 
These brews are only sold in their taproom. 
If you visit, they'd appreciate your feedback on these unique creations.
Perhaps, with time, these limited-edition brews will become more of a staple. 
Related Reading: What Is Draft Beer? – Find Out Here.
Batch 1094 
Only pilsener malt and flaked wheat were used to brew this batch of hazy DIPA. 
As much as everyone there loves oats, they thought creating an excellent hazy without any would be fun. 
The flaked wheat creates a silky texture, making the brew lighter and "fluffy" in the mouth. 
They've also tweaked the number of minerals added to the water to improve the taste and texture. 
This is dry-hopped with Strata, Citra, Galaxy, with Nelson Sauvin whirlpooling. 
Batch 1035
Unlike their regular hazies, batch 1035 contains zero of the usual trimmings. 
They only used four grains/malts. 
And instead of relying primarily on oats or wheat, they used a smidge of oats for this particular brew. 
They also used fewer dried hops than usual to give the yeast a chance to shine. 
The grain made this hazy considerably darker, giving it an orange hue. 
The zesty hop quality stands out more, thanks to the yeast and hops interacting to generate a juiciness reminiscent of honeydew melon. 
And to counter the beer's somewhat increased bitterness, they also changed the water profile to make it milder. 
This one is worth a try!
Related Reading: How To Make Orange Beer – Learn More Here.
The Taproom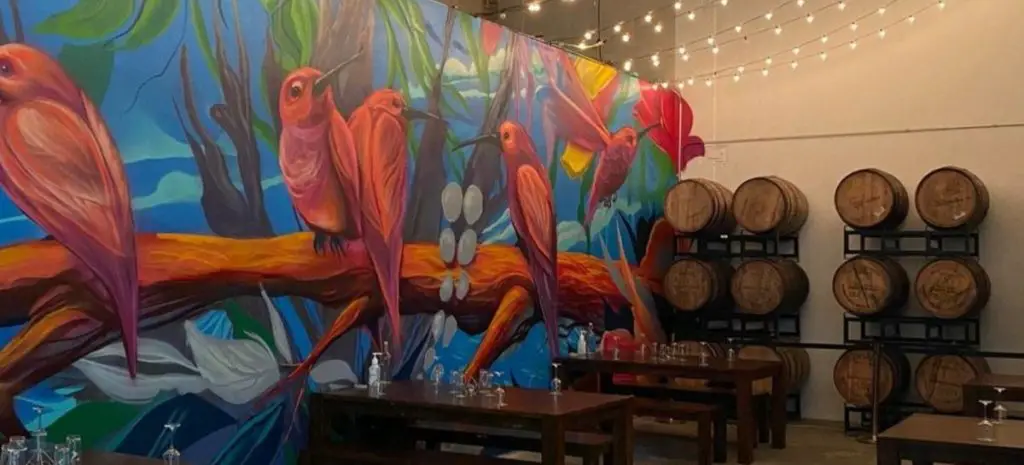 PTB has a taproom where they pour their most recent beers and favorite bottles. 
They also partnered up with Kooker's for yummy taproom fare.
You can get an excellent PTB burger or bbq pulled pork sandwich as you sip on their phenomenal beers. 
A couple of appetizers are good for sharing among friends, like poutine and stuffed tater tots. 
They deliver a good time. 
The taproom may not look much at first glance, but there's a much bigger space in the back with pinball machines. 
Related Reading: 8 Low Acid Beers for Acid Reflux – Read More Here.
Final Thoughts 
Phase Three Brewing Company has quickly become one of Chicago's premier breweries.
Their beers are of unparalleled consistency in quality.
They produce many hazy IPAs, and all their bottles are aesthetically pleasing. 
Their merch looks pretty awesome too. 
It's worth picking up a 4-pack from this brewery.
If you visit their taproom, you're in for a good time. 
The staff is helpful and friendly, and the atmosphere is chic yet warm. 
You're lucky to have a local bar carrying some of their brews!