Chances are you've seen Swamp Head products at your local Target.
If you haven't picked one up, you might wonder if their brews are good. 
Read on to learn about this fantastic brew house and its offerings. 
Swamp Head Brewery was founded in 2008 to introduce Floridians to the burgeoning craft beer scene sweeping the rest of the country.
You could call it a trailblazer. 
They're working hard in their 30-barrel Gainesville facility to bring this dream to life, one batch of handcrafted beer at a time.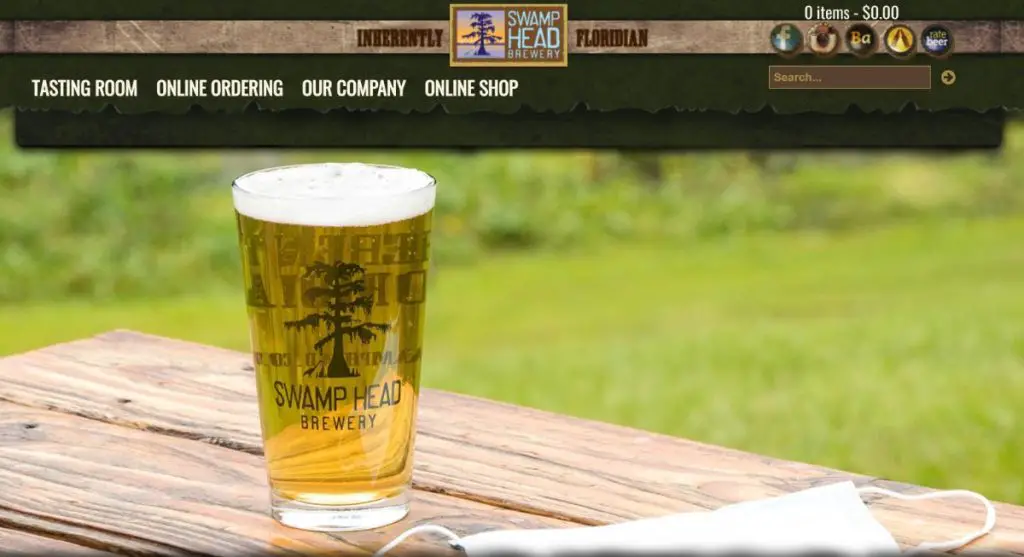 A Brief History of Swamp Head 
Swamp Head Brewery was established by Luke Kemper, a graduate of the University of Florida. 
While residing in Boulder, Colorado, Luke was inspired by the state's thriving beer culture and decided to launch a brewery in his home state.  
Kemper teamed up with veteran brewer Craig Birkmaier to establish this brew house.
Kemper and Birkmaier reconstructed equipment obtained from the defunct Spanish Springs Brewing Company in nearby Ocala. 
After opening its doors in November 2009, Swamp Head Brewery began delivering beer all across Gainesville. 
Swamp Head took home 11 trophies from the 2011 Best Florida Beer Championships.
Darkwater Floridian Dark Ale (Black IPA) won best in the show, and Smoke Signal Smoked Porter won second place. 
The Wetlands, Swamp Head Brewery's tasting room, opened in 2012. It got hit by the pandemic, but it seems to be doing alright now. 
Related Reading: What Are They Brewing Over At Solemn Oath? – Find Out Here.
Swamp Head Brewery Products 
Now that we know of its origins, let's get into the brews that come out of this establishment.
I'm sure this is why you're here anyway. 
Big Nose (IPA – American)
Big Nose IPA, brewed with spring water from the depths of the Okefenokee Swamp, is a magical nectar for hop enthusiasts. 
This brew is something to be savored. 
Big Nose uses a huge amount of mature-flavored hops, and it also has two dry hop additions to boost the fragrance.
The intense hop flavors are complemented by the robust malt body, making for a satisfying finish that will have you reaching for another glass.
Stump Knocker Pale Ale (Pale Ale – American) 
The Stumpknocker fish inspired the name of this beer because of its ferocity. 
The said fish can fool even the most experienced anglers into thinking they've hooked a trophy catch!
This pale ale stays true to the hype by being easy to drink and sharp, just like a vast swamp beast.
Stump Knocker gets a strong infusion of dry hops, resulting in a hoppy ale that's not shy on flavor and aroma and finishes clean and dry.
Related Reading: A List Of Hoppy Beer And Measuring Hoppiness – Learn It Here.
Midnight Oil (Stout – English) 
Blended to perfection, the toasted oats, roasted barley, chocolate wheat malt, and dark roast coffee in this beer are as subtle and alluring as a moonlit evening.
How poetic. 
This is a traditional English oatmeal stout with a robust malt flavor.
Locally roasted coffee is added during the cold conditioning process. 
This brew is for those who love "burning the midnight oil." 
Related Reading: The History And Example Of Oatmeal Stout Recipes – Learn More Here.
Wild Night (Cream Ale) 
Swamp Head takes advantage of the thousands of bees toil in Flordia's farms, producing some of the world's finest honey. 
Using this sweet nectar, they produce Wild Night, a honey cream ale that has won many awards. 
Wild Night is light and airy without sacrificing flavor.
They've given this American standard a modern makeover by including local honey and a hint of hops.
It's golden, refreshing, and drinkable at any time of day.
Lemon Days (Berliner Weisse)
This is like sunshine is a glass. 
This brew gets its signature sour flavor from a combination of lactic bacteria and a particular strain of yeast. 
There is a long-standing custom of adding fruit to this hazy, crisp wheat beer.
Lemon Days is what you want on a hot summer day by the pool. 
Tropical Vibes (Wheat Beer) 
Florida may not be geographically located in the tropics, but the taste has a tropical feel.
Hence this seasonal beer, a wheat ale with energizing notes of mango and guava. 
This beer will transport you to a tropical paradise, where you are already there or just imagining it.
Related Reading: The Bitter And Refreshing World Of Refreshing Beer – Read It Here.
About The Wetlands Tasting Room 
A tasting room at a brewery was legal in Florida but not explicitly so when Swamp Head Brewery opened. 
Initially, Luke had his application for a license to operate Swamp Head's tasting room turned down.
When it finally got a green light in 2012, there was nothing like it in Gainesville. It was almost like a speakeasy. 
Swamp He hosted events and promoted local brews in the community thanks to this one-of-a-kind tasting facility suggest dropping by The Wetlands if
If you want the whole Swamp Head experience. 
While you're there, inquire about a guided tour of their premises. 
They are more than happy to tour the space and answer any questions you may have. 
There have been instances of them offering guidance to brewers in Gainesville and beyond. 
That's the mark of an excellent brewery — being confident enough to share knowledge! 
The standard they've established as one of the first local breweries in Gainesville is outstanding. 
Related Reading: Long Island Breweries To Visit – Find Out Here.
Swamp Head Brewery's Initiatives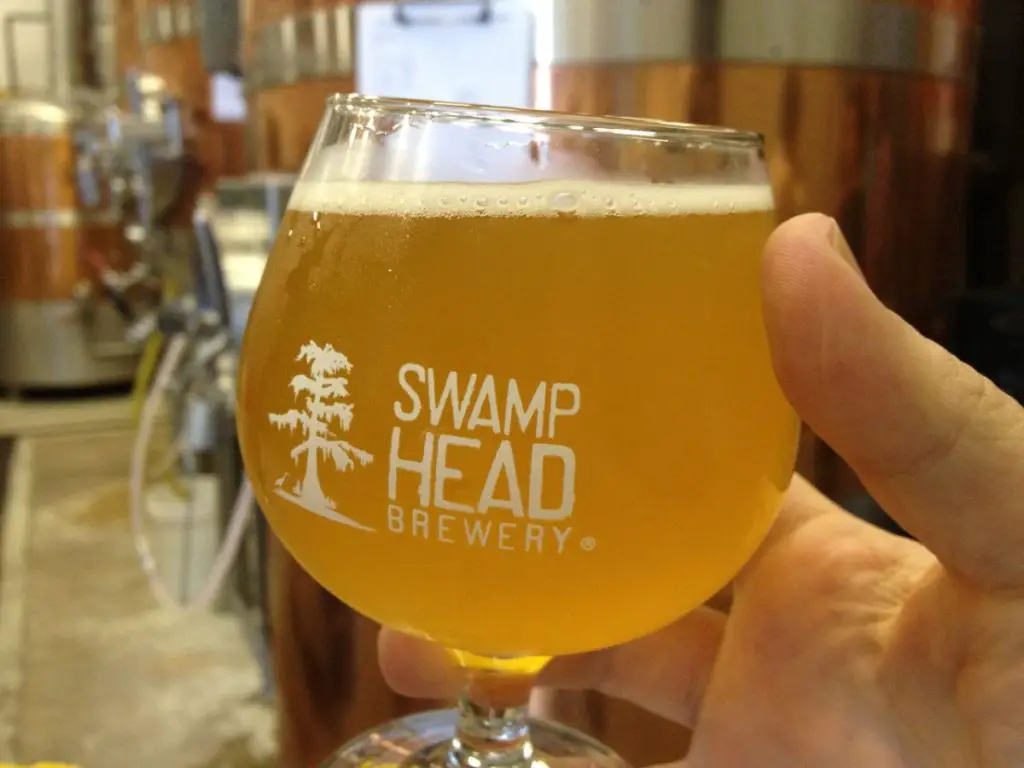 Florida First 
Swamp Head is, first and foremost, a Florida Brewery.
They love their neighbors and aime their state with the beer it deserves. 
They use local ingredients in their brews to support local suppliers and producers whenever possible. 
If they can find their ingredients locally, they will only choose like-minded companies with the same ethical principles. 
Carbon Neutrality 
Swap Head has partnered with 'We Are Neutral' to host year-round carbon-neutral events ar.
They don't want to negatively impact the environment negatively, even while being y sizeable operation. 
Related Reading: 5 Harmful Ways Brewing Beer Is Bad For The Environment – Learn More Here.
Final Thoughts 
Grab a beer by Swamp Head when you get a chance.
It's a brewery worth standing by; more importantly, they produce excellent brews. 
Their facility is worth visiting too. It stands on acres of conservation land, so the views are not bad. 
A rotation of food trucks also parks outside the tasting room.
I'm sure you'll work up an appetite while sampling everything Swamp Head offers.