Parties are often incomplete without a good selection of beer.
Your event could be a hard rave party or a simple get-together party with friends. 
You're probably thinking, "What are the best beers for a party?"
The short answer is that you must consider price, attendees, location, and more. 
Keep reading, as this article will go through these considerations while giving you recommendations for certain beer brands.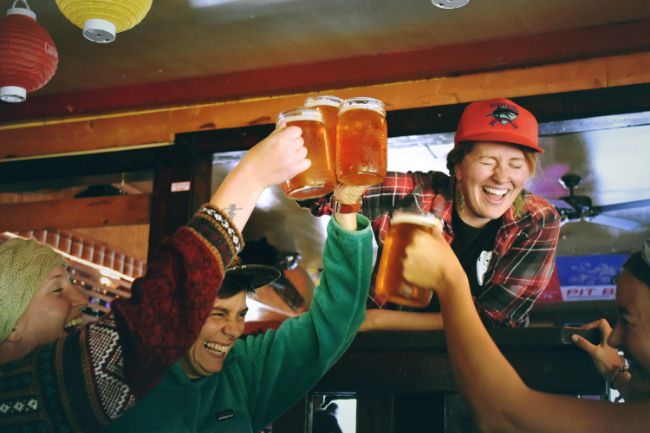 The Best Beers For a Party
Heineken Beer
This Dutch import is sure to please your guests.
Heineken beer in bottles is a favorite all over the world. 
If you have a barbecue in the summer, chill them in your fridge while the food is cooking.
The good thing about serving this beer cold is that it tastes better and goes down more manageably.
Notably, this beer has a sweetness from the malt, weight from the hops, and an ABV of 5%.
Most likely, 24 bottles would cost about $27.99.
Budweiser
One of the best-canned beers for a party is Budweiser.
The classic American lager is this golden beer. 
It is mildly sweet and ends with a straw taste.
Each bottle of this beer costs about $0.75 (may vary due to local tax).
And if you're wondering about its alcohol by volume (ABV), it only has 5%.
Most likely, 24 bottles would cost about $17.99.
Pabst Blue Ribbon
This is a good choice for parties because it is easy to drink.
It tastes sweet from the malt and bitter from the hops simultaneously. 
Also, since Pabst Blue Ribbon cans have a thicker velvet edge than Bud cans, it will be easy to make a lot of people happy.
This one has an ABV of 4.5 percent.
Remember that it costs the same as Budweiser, which would cost around $17.99 for 24 bottles.
Corona
In recent years, the name Corona has been in the news, but not beer.
This shouldn't take away from the success of this brand, though. 
But because of the Covid 19 pandemic, the name of this beer has caused some people to avoid it.
Corona beer is made by the brewery Cervecera Modelo, owned by the Belgian company AB InBev.
It was first sold in 1925 and is still popular among beer drinkers worldwide. 
Golden lager is known for having a light, refreshing aftertaste.
It's an excellent drink for cool weather and fall, and it's often served with a thin slice of lime or lemon.
Twenty-four bottles would probably cost around $25.99.
Stella Artois
Stella Artois is a great beer to serve at parties.
It comes from Belgium, "the home of great beers." 
The toasty sweetness of the malt base is followed by a hop, which gives the beer a balanced flavor.
It's also a "value for money" beer, becoming one of the most recommended party beers. 
It has a flavor that most people like, and buying it in bulk won't break your bank account.
Stella Artois has 5.2 percent ABV.
Twenty-four bottles would probably cost around $29.99.
Related Reading: Drunk UNO – Find Out Here.
What To Consider When Choosing Beer For A Party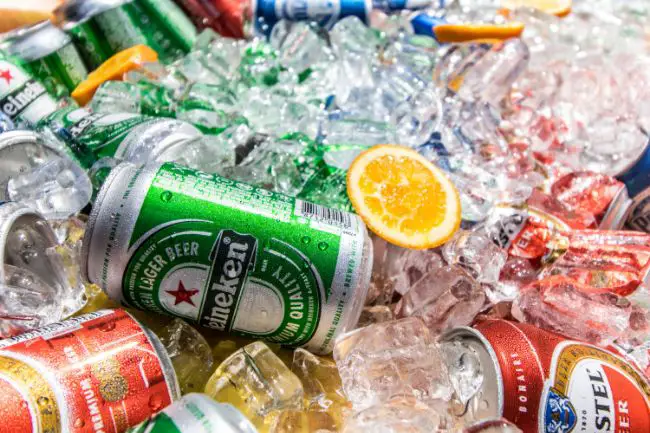 Price
Price is one of the most important things to consider when choosing a beer.
You don't want to spend all your money on beer if there are other costs for the party. 
At the same time, some people look down on really cheap beer.
Before you think about how much beer will cost for your party, you should figure out your price range.
Also, it would be best to think about how much beer you need.
Beers like Natty Light, Bud Light, and PBR will be at the bottom.
A 12-pack of 12-ounce beers in this range will cost about $10. 
When quantity is more important than quality, this is a great idea.
More expensive beers will be in the middle, but they are still about average. 
Stella Artois, Blue Moon, and Samuel Adams Boston Lager are all excellent examples.
12 12-ounce beers can cost anywhere from $15 to $20, so the price and quality of these beers are both excellent.
On the high end are specialty beers that put quality over quantity.
There are aged beers, craft double IPAs, and small-batch beers among these. 
Often, they are only sold in small amounts or are so expensive that they are used for smaller parties.
Related Reading: Craft Beer Vs. Beer: What Is The Difference – Read More Here.
Attendees
The number of people coming to your party is significant when figuring out the price range.
Any of these price ranges could work for a small gathering. 
At that point, you should think about what the guests might like.
The cost goes up as the number of people goes up.
The list of people who will be there is almost as important as the cost.
When it comes to beer, everyone has different tastes. 
Some people might not like cheap beer, and others might not enjoy expensive beer.
If most people on your guest list are close friends, you can get the kind of beer they like.
If you don't know your guests well, consider what the beer you offer them will say about you.
Related Reading: Beer For Ladies – Find Out Here.
Occasion
How your choice of beer fits in with the party will depend on why you have it.
There are times when you should drink a certain kind of beer.
Think about how the event will affect how quickly people drink and if the beer goes with the food.
Related Reading: This Is The Best Beer For Brats – Deep Dive Here.
Location
You should also think about where the party is when choosing a beer.
If you want to bring beer to a party, consider how the location might affect you first. 
Some places have rules about what you can carry with you.
Some places won't let you drink at all.
Related Reading: The Top Canadian Beer Brands You Should Try – Learn More Here.
Final Thoughts
There are more beer brands available that you could order for your party, but these are the most popular.
Other than being famous, these brands are also the most accessible. 
Find the best beers for your preference and budget, and remember to drink responsibly.