Are you looking for the perfect beer that packs a punch with every swig?
A beer with a high ABV is the right choice for you!
These beers can take your taste buds on a wild ride, with alcohol content ranging from 8% to 65%!
In the US, brewers constantly push the limits when crafting high-ABV beers, like creating unique drinkable flavors. 
In this guide, you can learn more about high-percentage beer and some domestic beer with high alcohol content.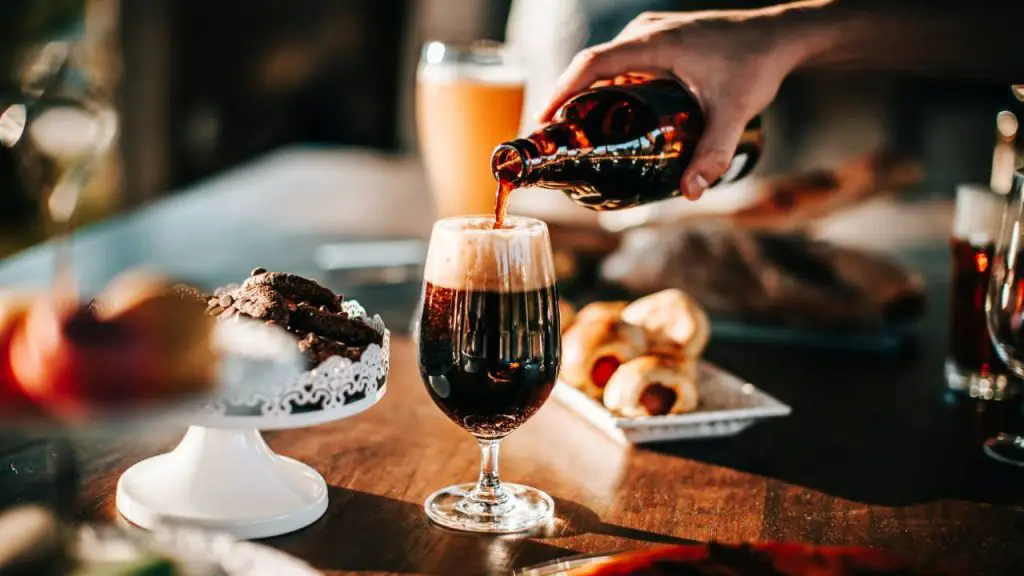 What is a High Percentage Beer?
You need a high percentage of beer if you want something with more punch.
So, what is a high percentage of beer?
It is a beer with a higher percentage of alcohol content, some even reaching up to 65%!
With that information in mind, you should know that high percentage beers are not for the faint-hearted. 
After a drink, they can have that intense kick to make you feel tipsy.
This type of beer can come in different styles and flavors.
Some can be hoppy and fruity, so don't let that fool you. 
How To Measure the Percentage of Alcohol in Beer?
Measuring the percentage of alcohol in beer is essential when you are a home brewer. 
One common way to measure the alcohol content or alcohol-by-volume (ABV) of your beer is through two tools.
There is the hydrometer and a refractometer that measures your beer's density or sugar content.
You may only need density and sugar content to measure your ABV, as they play a massive role in fermentation.
To measure the ABV, use either of the tools to take a reading before and after fermentation.
You can get the difference from the two data to see how much sugar became alcohol. 
But if you want to know the ABV of a beer you bought from the store, there is already an ABV printed on its label.
How to Make High-Percentage Beer
Making a high percentage of beer follows the same process as traditional beer. 
The only difference is that you have a higher concentration of sugar to ferment to have a higher alcohol content. 
Particular types of yeast help in producing higher alcohol levels. 
What Are Some Domestic Beers With High Alcohol Content?
While many local beers have a light and refreshing taste, you may crave a dark one occasionally. 
Fortunately, there are several domestic beers with a high alcohol content that have the right amount of kick for a chill sip in the night. 
White Chocolate Warmer by The Bruery
ABV: 14.5%
White Chocolate Warmer is a treat for those who love a little warmth in their beer. 
They took the Classic White Chocolate Ale, barrel-aged it, and added cacao nibs, vanilla beans, cinnamon, and maple syrup. 
It is the perfect brew to enjoy a chilly evening with your blanket.
Its well-rounded taste can satisfy your taste buds, but be careful!
This beer can go up to 14.5% ABV.
Tweak by Avery Brewing Co.
ABV: 13.1% 
Do you love drinking rich and bold-flavored beers?
Then you are going to love Tweak!
This classic brew features an immense and roasted espresso flavor with the smooth notes of bourbon. 
So, with every sip you take, you travel into a world of complex flavors with the most satisfying taste. 
Avery Brewing Company is a brewery based in Colorado that makes high-quality and award-winning beers.
120 Minute IPA by Dogfish Head Craft Brewery
ABV: 15-20%
120 Minute IPA is a hoppy and bold beer aged in Utopia's barrel to create pure magic in a bottle. 
It uses high-alpha American hops to produce a hoppy brew, aged in Utopia barrels to achieve a deep copper color. 
The result? 
A burst of sweetness, almost like licking candy with citrus and pine flavors.
With its high ABV, it is best to pour your loved ones a cold one so you can chill and relax slowly.
Dogfish Head Brewery is a trusted brewery in Delaware that has been making exceptional beers since 1995.
Wake Up World Wide Stout by Dogfish Head Craft Brewery
ABV: 16-18%
Wake Up World Wide Stout is a rich and flavorful stout made from grown frains, cold-press coffee, plant-based milk, and maple syrup.
But don't let all that sweet and good stuff fool you. 
It has up to 18% ABV, giving you a warm feel while sipping its delicious and complex flavors. 
The best part about it is that you can age it!
You can buy a few bottles and keep them for a few years until you are ready to wake them up. 
The result is worth it! 
Wicked Double by Samuel Adams
ABV: 8.5%
Wicked Double is here to level your beer experience with its bold and juicy fruit flavor. 
It has a soft body and smooth finish, so you can quickly drink it, whatever occasion you celebrate. 
The hops lineup is impressive as well.
With Cascade, Mandarina, Mosaic, Ella, and Hallertau Blanc, you can have a burst of flavor in one sip.
Their Samuel Adams IPA yeast brings out the best in these hops to give you that fruity goodness.
The Boston Brewer is home to Samuel Adams, who always finds creative ways to create a beer that surprises your senses. 
Here are the best Southern brewers for you to discover.
Barrel-aged Narwhal by Sierra Nevada Brewing Co.
ABV: 11.9%
Barrel-aged Narwhal is a rich and bold imperial stout, aged in bourbon barrels for almost a year. 
You get complex flavors like oak, coconut, dark chocolate, vanilla, and espresso.
It is the perfect beer for an indulgent experience while taking small sips on a relaxing evening. 
The Sierra Nevada Brewing Co. brewer produces seasonal and limited-release brews in their California headquarters. 
Curieux by Allagash Brewing Co.
ABV: 10.2%
Curieux is a bourbon barrel-aged golden ale that takes you through complex flavors.
It blended Allagash 2-Row Malted Barley, a local pale malt, and Nugget and Hallertau hops. 
After aging for seven weeks, you get delicious vanilla, caramel, oak, and bourbon notes.
But that is only the start.
It has another layer of flavors like passion fruit and honey for that crisp and dry finish. 
You can also try the other brews from Allagash Brewing Company in Maine, which specializes in Belgian-style beers.
Black Ops by Brooklyn Brewery
ABV: 12.4%
Black Ops is a barrel-aged imperial stout that uses Four Roses Small Batch Bourbon barrels for a rich and complex flavor. 
One sip and you can immediately taste the chocolate and coffee notes with a little hint of sweetness. 
You can also taste the vanilla-like undertones that create a smooth and mellow finish in every sip. 
So, Black Ops is a perfect choice if you want to indulge your sweet tooth while drinking a cold beer.
---
What Are the Effects of High ABV Beer on the Body?
When you drink a high percentage of beer, you can feel some effects on your body depending on age, health condition, gender, and more. 
So, as the general rule of thumb, whether you drink a high percentage of beer or not, always drink in moderation. 
The typical effect of drinking beer high in ABV is intoxication, slower reaction time, and severe hangover. 
But don't worry! 
There's no need to avoid beers high in ABV.
You can savor it if you limit yourself and drink responsibly. 
Always drink plenty of water, eat food, and never drive when drinking.
Do you know what Birch Beer is, and can you make some at home?
Final Thoughts on Beer High ABV
So that's a little taste of the beautiful world of high-percentage beers!
These beers might knock you off your feet a few times, but that makes them exciting!
It is like riding a rollercoaster. It may seem a little scary, but once you take a sip, the rush of flavor comes in.
So why not give a beer with a high ABV a try?
You might discover your new favorite brew.
Cheers to living boldly and enjoying every sip!
And always remember to drink responsibly.
---
Other related articles to read are:
How Many White Claw to Get Drunk?
Obscurity Brewery and Craft Mead.